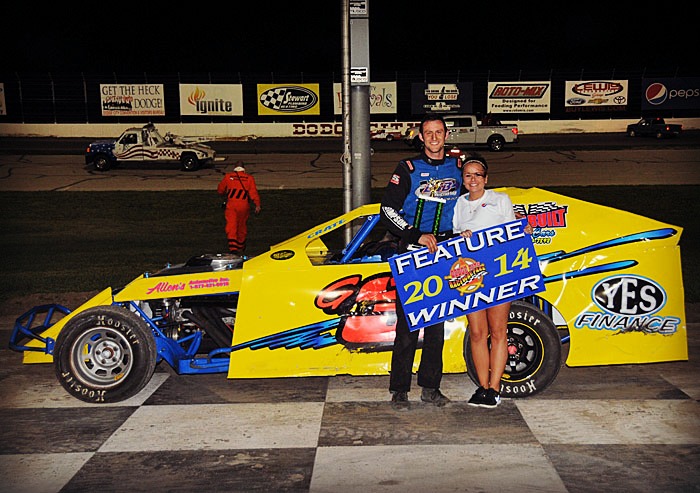 By Lonnie Wheatley
DODGE CITY, Kan. (June 14) – Brendon Gemmill snapped a string of bad luck in dramatic fashion with a last-lap win in Saturday night's 20-lap IMCA Xtreme Motor Sports Modified main event at Dodge City Raceway Park.
While the two-time track champion scored his first win of the year to become the sixth different Modified feature winner in as many events, Clay Money snared IMCA SportMod honors and Scott Drake bested the IMCA Sunoco Stock Cars.
While Ponca City, Okla.,, native Gemmill raced into the lead on the third lap from his sixth starting position, he still needed some late-race dramatics to deny Jesse Smith his second win of the season.
After Smith paced the opening pair of laps from the fourth starting position, he chased Gemmill much of the way before racing by on the low side exiting turn four on the 17th lap. Gemmill changed his line from high to low and pulled alongside Smith in a battle for the win on the final lap.
The duo raced into turn three side-by-side, with Gemmill edging ahead coming off the final corner to snare the win.
"We finally got that monkey off our back, that checkered flag we saw in the heat race was the first kind of win I've had all year," Gemmill commented.
In the SportMods, Money made a late move around Josh Appel in the 20-lapper to pick off his first DCRP win of the year.
Drake raced forward from the 13th position to take command on the 12th lap then held off Jax teammate and 15th starter Perry Misner for the win in the Stock Car 20-lapper.