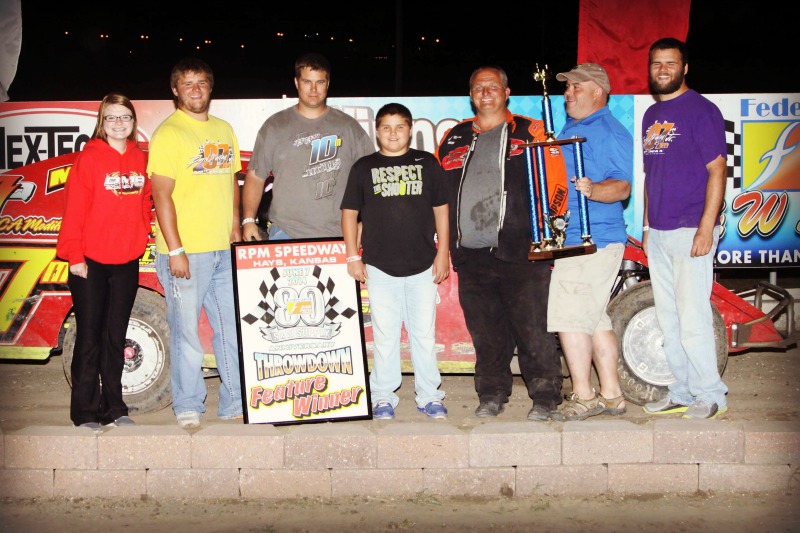 By Mike Hughes
HAYS, Kan. (June 7) – NASCAR veteran Ken Schrader returned to RPM Speedway Saturday night, June 7 to compete in the IMCA Xtreme Motor Sports Modified division.
Twenty-four cars started the 20-lap S & W Supply main event with outside polesitter Tim Watts jumping out to an early lead, trailed by Jesse Richter, Corey Lagroon, Brian Calhoon and Kevin Gray.
Lagroon took over the top spot on lap three and held on to that position through lap 12. Then Da­vid Murray Jr. got under Lagroon in turns three and four on lap 13 and assumed command.
The man on the move, however, was Kyle Rohleder. Rohleder reeled in Murray and was about to make a pass when the final caution waved on lap 18. Murray was able to hold on after the restart for his third feature win at Hays this season.
Rohleder finished second, followed by Lagroon, Dylan Sherfick and Watts. Schrader finished sixth.
After his hometown track Lincoln County Raceway rained out, Casey Werkmeister made the long haul to Hays worthwhile as he won the 20-lap Advantage Glass Plus IMCA Stock Car main event. Werkmeister took the lead from Scot Granzella on lap seven and led the remaining distance to the checkers. Michael Pepper finished second, trailed by Tyler Tipton, Granzella and Nolan Re­mus.
More than 30 Golden Plains Trucking IMCA Northern SportMods checked in with 24 cars qualify­ing for the main event. Kaid Calhoon jumped to the early lead, but gave it up to Kurtis Pihl on lap three. Pihl continued to lead at the halfway mark, followed by Blaine Walt and Tyler Frye.
On lap 11, Frye took the high groove to drive by both Walt and Pihl to take the lead. But as the field came to the white flag, Walt drove by Frye and held on to make his way to the winner's cir­cle. Daniel Gottschalk finished third, followed by Trenton Kleweno and Pihl.
The 20-lap Rebel Tank Service IMCA Hobby Stock A-feature saw its share of caution flags. Ja­cob Olmstead led the first three laps before Trevor Schmidt took command. Schmidt continued to lead through several caution periods and led the field at the halfway mark.
Then Garrett Hager took the lead and drove on to his second main event win in a row at his hometown track. Schmidt held on for second, with Adam Armstrong, Ron Wehling and Cody Gra­ham rounding out the top five.
Kiowa Higdon appeared to have won his fourth Tom's Machine & Welding IMCA Sport Compact feature in a row.
Higdon took the lead from Amber Bird on lap two of the 12-lap race and was first to the checkers, followed by Smith, Art Herzog, Bird and Madison Reed. But Higdon was disquali­fied as he did not pass post-race tech, giving Smith his second win of the year at Hays. Kirk Pfannen­stiel won the other heat race.
The evening's race sponsor was Federated Auto Parts/S & W Supply.