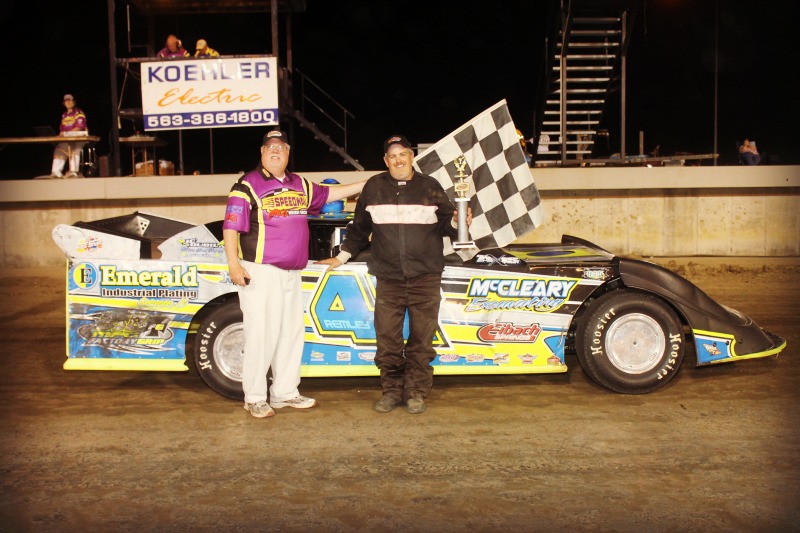 By Mike McGuire
DAVENPORT, Iowa (May 30) – Three IMCA drivers made their first visits to victory lane this season at Davenport Speedway on Friday.
Andy Nezworski took home the hardware in the Petersen Plumbing and Heating IMCA Late Model feature. He led lap one of the 25-lap race before yielding to Todd Malmstrom. Nezworski re-took the lead on lap eight and led the rest of the way to the checkers.
Justin Kay was closing on the leader but had to settle for second. Malmstrom held on for third, with Brunson Behning and Ray Guss Jr. completing the top five.
Brandon Durbin captured a wild Milan Heating and Air IMCA Modified main. The 20-lap race saw the entire field diving for the bottom lane of the track, resulting in numerous cautions.
Bob Dominacki led the first 15 laps. Durbin was one of the first to try a slightly higher line and found the middle to his liking. Durbin led the final five laps en route to the victory.
Dominacki finished second, with Doug Crampton third. Joe Beal finished fourth, ahead of Todd Dykema.
Twenty-seven Modifieds were on hand.
Doug Burkhead led flag to flag in the caution-filled Hawkeye Auto IMCA SportMod main. Dustin Crear held off Bryce Garnhart to finish second. Jayson Wiggins and David Norton were fourth and fifth, respectively.