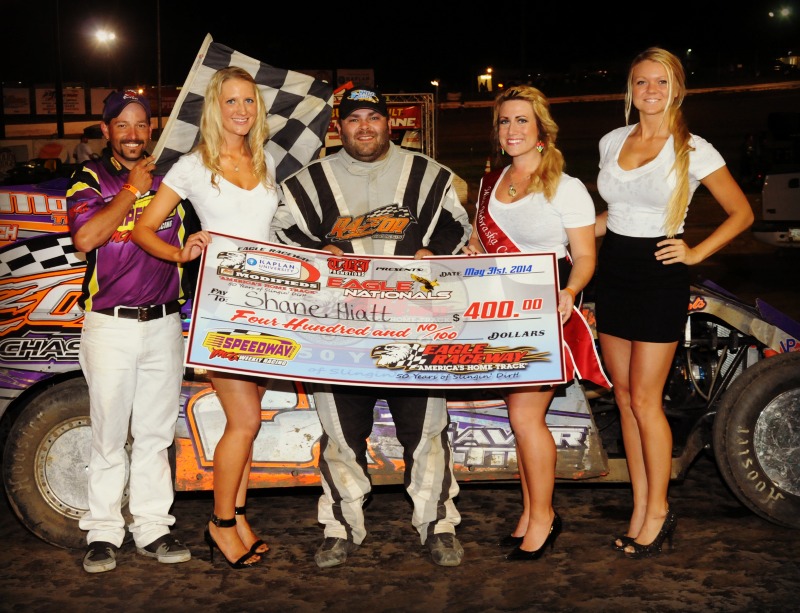 By Greg Soukup
EAGLE, Neb. (May 31) – Point leader Shane Hiatt won his first Kaplan University IMCA Modified feature of the season Saturday at Eagle Raceway.
Chad Anderson, Mike Densberger, Doug Deterding and Rik Gropp were the first four to the flag stand at the end of lap one. Justin Wulf drove around Deterding and Gropp and into third on lap two before giving the spot up to Hiatt the next time around.
Densberger passed Anderson the following lap. Hiatt took advantage of a lap seven restart to move up to second. Wulf again moved to third and Hiatt took over the lead on the next circuit.
Contact with another car on lap 10 sent Anderson spinning into the implement tire that guards the back­stretch pit entrance. That made the top three Hiatt, Densberger and Wulf. Dylan Smith cracked the top four and advanced to third on lap 14.
There was another caution on lap 15 for debris. Smith moved up to second on the restart and Wulf again moved to third with two laps left. Hiatt held Smith off to grab the victory.
"This was a special win because it came on dad's birthday. It was a really awesome night," said Hiatt.
Justin Olsen was the Sam's Club IMCA Sport Compact winner. Brad Loyet topped the ASCS Sprint main.