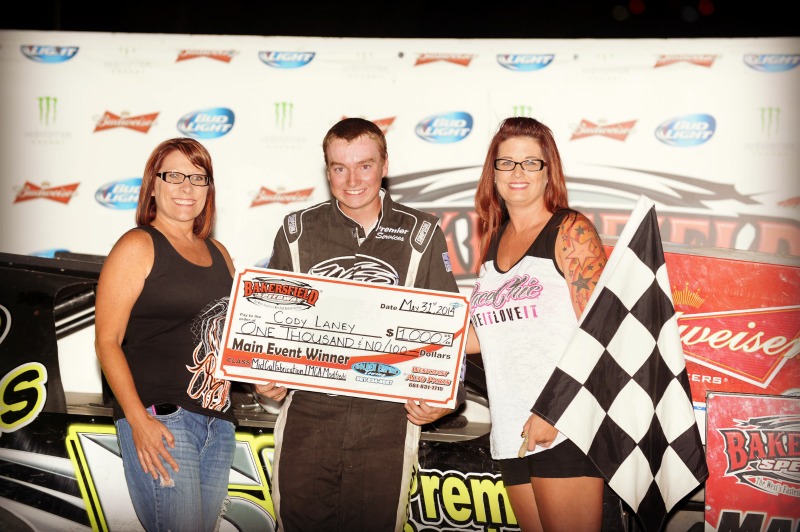 BAKERSFIELD, Calif. (May 31) – Cody Laney has to be wishing every race night could be like Make-A-Wish Night at Bakersfield Speedway.
Laney repeated as winner of the Saturday evening IMCA Xtreme Motor Sports Modified special, this time in a feature that ran caution-free for all of its 40 laps.
"It was a pretty long race," understated Laney, who'd won for the first time in his IMCA career at the 2013 event. "I wasn't sure if I could win it back-to-back. It's pretty cool."
The checkers were accompanied by a $1,000 check. Laney raced his way back onto the Fast Shafts All-Star Invitational ballot after starting fifth and running side-by-side with Larry Hood before taking the lead for good on lap 16.
His lead was close to a straightaway for much of the race. Robert Sanders, Brad Pounds, Kyle Heckman and Hood rounded out the top five.
Proceeds from the annual special go to Make-A-Wish of Kern County, with those funds going to grant wishes of local children with life-threatening medical conditions.
Feature results – 1. Cody Laney; 2. Robert Sanders; 3. Brad Pounds; 4. Kyle Heckman; 5. Larry Hood; 6. Bret Bennett; 7. Justin Schweitzer; 8. Chris Crompe; 9. Scott Gatson; 10. Bryan Clark; 11. Jason Nation; 12. Randall Davis; 13. Danny Lauer; 14. Larry Wise.