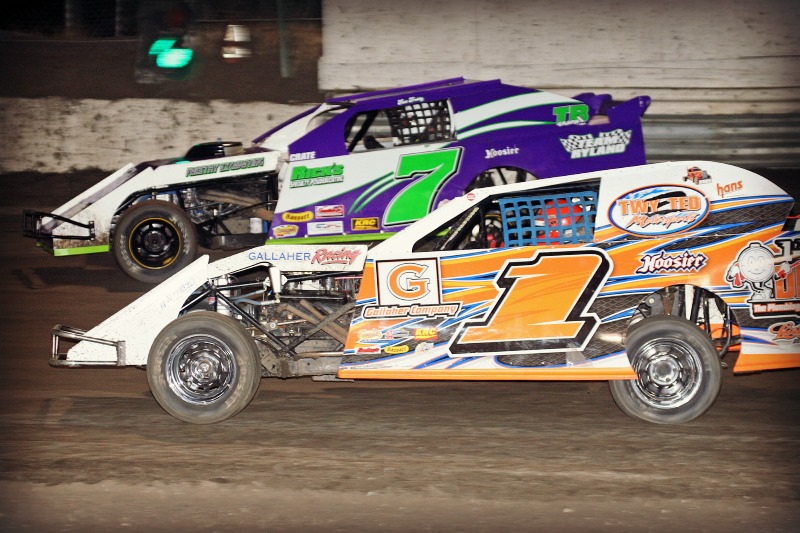 ANTIOCH, Calif. (May 31) – Robert Gallaher was so excited to win the Contra Costa County Fair main event Saturday night, he did a NASCAR-style "smoke show" at the finish line of Antioch Speed­way, a sight rarely seen on a dirt track.
Gallaher fought hard for the lead, racing side-by-side with Fred Ryland for most of the 20 lap Karl Chevrolet Northern SportMod main event. Ryland held off Gallaher's challenges for five laps, when a spinning car brought out the caution flag with two to go.
At the waving of the green flag, Gallaher made his move, and was able to get ahead of Ryland coming out of the second turn. It was Gallaher's second win of the season.
Gallaher had a special reason to celebrate in such style. His wife Elise was in the grandstands for the first time to witness his win. The second-year SportMod driver in on a quest to win the IMCA's na­tional title.
"I had to earn this win – I started from the back of the field," Gallaher said. "It was an unbelievable race. To have another driver race so closely and have two cars be so competitive makes the win even bigger. He (Ryland) passed me and I got the lead back, fair and square."
Ryland was disappointed.
"I missed the set-up," a he explained after the race. "We tried something different setting the car up for the track, but it wasn't the right choice. Being a little off made the difference between winning or not winning."
Lloyd Cline of Martinez brought home third place. Megan Ponciano, who won the previous week's event, was right behind the leaders to finish fourth.