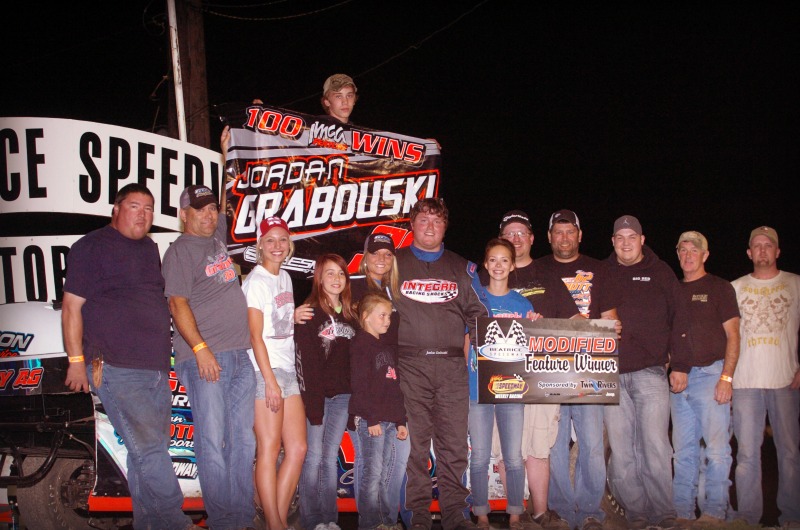 BEATRICE, Neb. (May 23) – A driver who's proven himself on dirt ovals around the Midwest en­joyed a milestone win at his hometown track Friday night.
Jordan Grabouski won the May 23 IMCA Xtreme Motor Sports Modified feature at Beatrice Speed­way. The victory was his career 100th in the sanctioned class.
"You have to race a lot to be able to accomplish something like this. It's a lot of hard work and you have to have a lot of help from your family, your crew and sponsors," said Grabouski, 25 years old and the youngest driver in division history to reach triple digit wins. "I love to race. I like going to the lake and I like playing golf, but racing is my passion. I wouldn't be happy if I wasn't racing."
His first two Modified victories came during the 2006 season. Grabouski earned a personal sin­gle-season and division-best 29 checkers in winning the national championship in 2011.
"I always want to set my goals really high but 100 Modified wins wasn't something I ever set out to do," he admitted. "That was something I never even thought about until before the season started and IMCA called me to tell me I was getting close."
"I started going to Beatrice with my dad when I was about six years old,. Beatrice is where I wanted to win my 100th," Grabouski continued. "I cut my teeth there. It's crazy how it all worked out for it to happen that way."
A seven-time track champion, Grabouski has made a name for himself particularly in recent sea­sons as a special events specialist.
He's won Spring Nationals, Nebraska State Championships and October Fest features at Be­atrice. Grabouski has ventured to Iowa and prevailed at an early season Frostbuster and taken home top prizes from RPM, Salina and Thunder Hill in Kansas as well.
"I think special events specialist is a good description. I've always run very well at special events," Grabouski said. "Winning Fall Nationals at RPM (in 2011) was great because it was the first big money show I'd won and there were so many cars from so many different states there. It's always cool to win at Rolling Plains."
Winner of the 2012 Fast Shafts All-Star Invitational, he hopes to return to Boone Speedway and bask in the Saturday night lights as champion of the IMCA Speedway Motors Super Nationals fueled by Casey's.
"I'd like to win Super Nationals," Grabouski said of the dream he shares with every other IMCA driver. "There will come a time for that, hopefully."
He's the 39th IMCA Modified driver to reach the 100-career win mark and the third to do so this season.