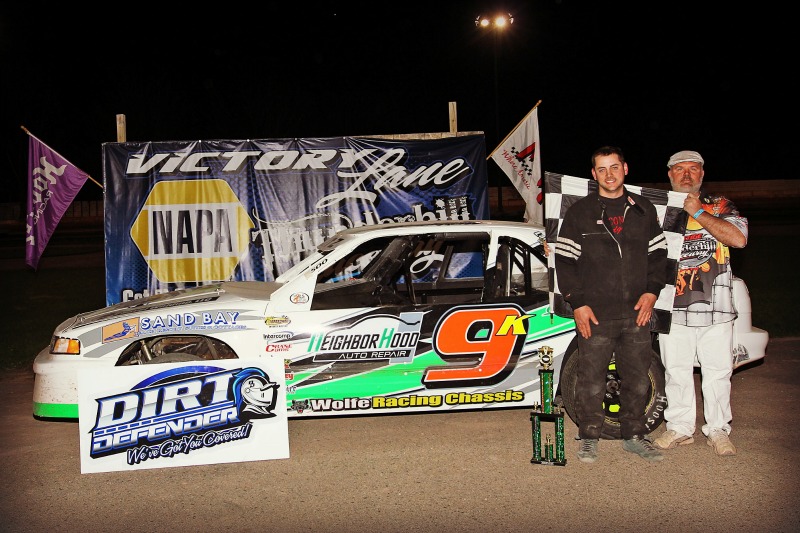 STURGEON BAY, Wis. (May 24) – Shawn Havel raced his way through a tight lead pack en route to a $1,500 payday in the IMCA Sunoco Stock Car Nathan Bouche Memorial Saturday night at Thunderhill Raceway.
While Havel had solid control of the second half of the extended 27 lap feature, the first few laps were anything but. John Anschutz paced the opening laps, the front man in a tight pack of cars racing two- and three-wide behind him.
Havel found himself in the middle of a three-wide battle for fourth, with two cars running side by side ahead of him. With virtually nowhere else to run and little room to move up or down, Havel was forced to stay put in the middle and make the best of the situation.
He was able to move forward from one three-wide contest into the middle of another, eventually breaking free to set his sights on Anschutz. Sweeping outside of the leader, he finished off the final pass a few laps before the midway point, then cruised away to the win.
Charlie Kroll took over the second spot but could never mount a serious challenge to Havel. Anschutz scored an impressive third against a very strong field with Dave Bouche prevailing in a race-long battle with Larry Karcz for fourth.
It was also a good night at the pay window for Sean Jerovetz who pocketed a $1,000 top prize for his win in the IMCA Xtreme Motor Sports Modified feature.
Already on the ballot for this September's Fast Shafts All-Star Invitational, Jerovetz was fast out of the gate, sprinting to a sizeable margin before anyone had a chance to challenge.
With Jerovetz checking out, focus shifted to Benji LaCrosse, who was working his way through the field. He moved into third on the seventh lap and one lap later passed Greg Gretz for second.
In the distance was Jerovetz as LaCrosse began the attempt to chase him down. Whether or not he would have caught him became a moot point halfway home as the event's lone caution took care of closing the gap all at once.
The stage was set for a shootout to the checkers but Jerovetz again took control of the point position. While he wasn't able to run totally free again, Jerovetz edged forward just far enough that LaCrosse could never quite pull even to make a move.
Other winners on the second night of the 2014 season were Chris Budzban in the Karl Chevrolet Northern SportMods, Billy LeMieux in the Street Stocks and Jeremy Jauquet in the IMCA Sunoco Hobby Stocks.