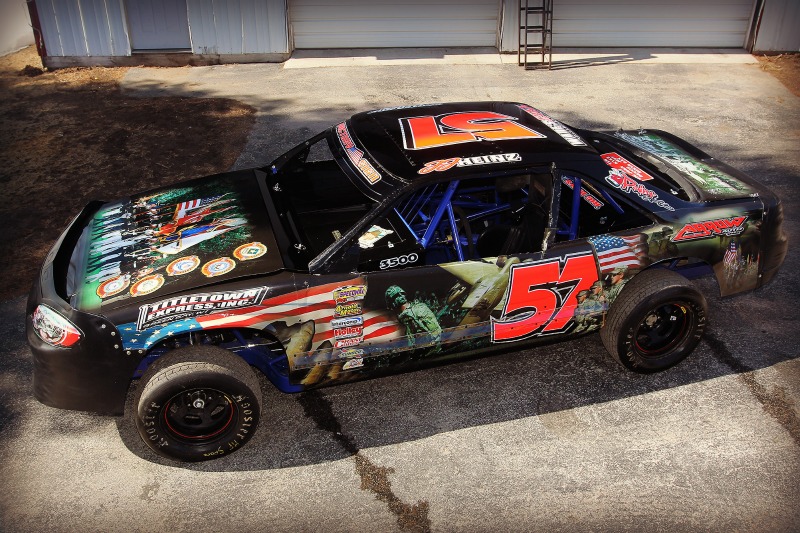 GREEN BAY, Wis. – No stranger to victory lane, John Heinz has earned another win, this time as voted on by the fans.
The IMCA Sunoco Stock Car driver from Green Bay earned the most votes in the Sybesma Graphics Facebook Fan Favorite Contest for fendered divisions for the month of May. He'll receive a mini hood from Sybesma.
The four-time track champion and defending Allstar Performance Wisconsin State titlist is planning another aggressive schedule in 2014 as he expects to compete weekly at Oshkosh Speedzone on Fridays, 141 Speedway in Francis Creek on Saturdays and Seymour Speedway on Sundays.
Heinz hopes his busy weekends this season will lead to a national title.
"It's our second year of chasing national points," said Heinz. "We chased points for the first time last season and ended up fifth."
Simply changing his approach to weekly racing is what Heinz credits as his recent desire to chase national points.
"We just wanted to try it once and see what happened," he stated.
"We ran against defending national champion Brandon Czarapata," Heinz said of his fellow Wisconsin racer. "He's cutting down this year so we thought we'd give it another shot."
Although he's earned many wins in his career, Heinz was still in search of his first win of the season.
"We've got a bunch of seconds, a fifth and we blew up one night," he explained of the start to his season.
Still, Heinz is liking his ride this year.
"We got a new car, a Wolfe Chassis from Beaver Dam. We like it, we just need to get it to victory lane," he said.
As for the wrap on his new ride, Heinz is proud of the military design and dedicated it to a longtime friend who recently passed away.
"Dan Conrad was a buddy of mine for 20 years," said Heinz. "He was a Vietnam vet and loved the car we ran with the military theme a couple years ago at Super Nationals. I think this car turned out better than that one and I'm sure he'd love it."
In addition to his wife Robin, Heinz listed Cody, Justin, Bob and Scott as his crew members.
Sponsors on his No. 57 include Blackstone Restaurant, Five Point Fabrication, Wade's Pit Stop, Arrow Auto Parts and Victory Vinyl, all of Green Bay; and 21 Gun Saloon of New Franken.