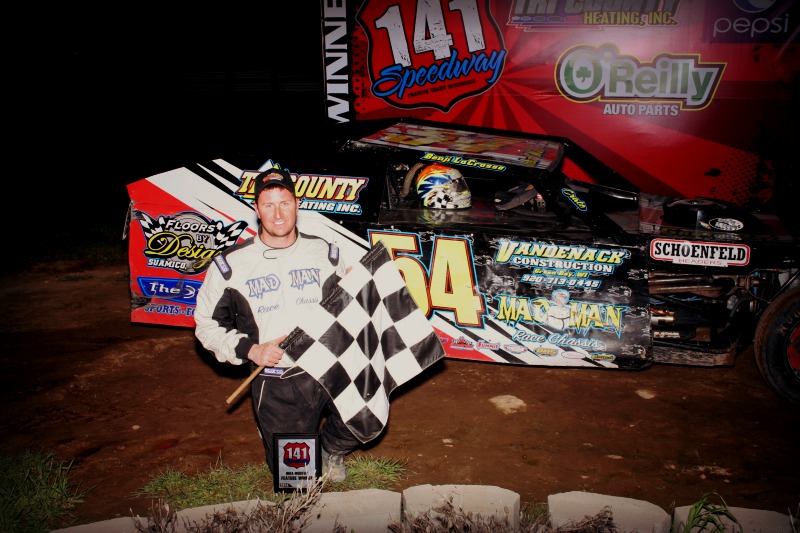 By Greg Aregoni
FRANCIS CREEK, Wis. – With 146 cars jam packing the pits Saturday night at 141 Speedway, racing was the real deal with hard-fought races just to make the feature events. The IMCA Xtreme Motor Sports Modifieds have had a stacked field all year long and Benji LaCrosse finally notched his belt with a win.
Many drivers with multiple feature wins sat on their trailers to watch the Modified main. Mike Wedelstadt opened as the leader with R.M. VanPay running second. A couple early cautions kept the field on the back bumper of the leader.
LaCrosse started 12th and charged his way through the field. A final caution allowed Johnny Whitman to join the fun up front with eight laps to go. VanPay used a great restart to get around both LaCrosse and Wedelstadt for the lead. LaCrosse shot into second with Whitman right behind.
LaCrosse was the first to catch VanPay and made his move outside with six laps remaining. LaCrosse evened up with VanPay and used the momentum from the top of the track to drive to victory. LaCrosse picked up his first win of the season with Whitman securing second over VanPay late in the race. Mike Mullen came back from an opening lap incident and beat Wedelstadt to the checkered flag for fourth.
Other winners included John Heinz in the IMCA Sunoco Stock Cars, J.J. Anderson in the Karl Chevrolet Northern SportMods, Charlie Sancinati in the Grand Nationals, Jerry Winkler in the Street Stocks and Matt Brehmer in the 4 Cylinders.
Heinz grabbed the lead with eight laps left and held off Rod Snellenberger for the Stock Car checkers. Anderson's in came on a green, white, checkered finish.