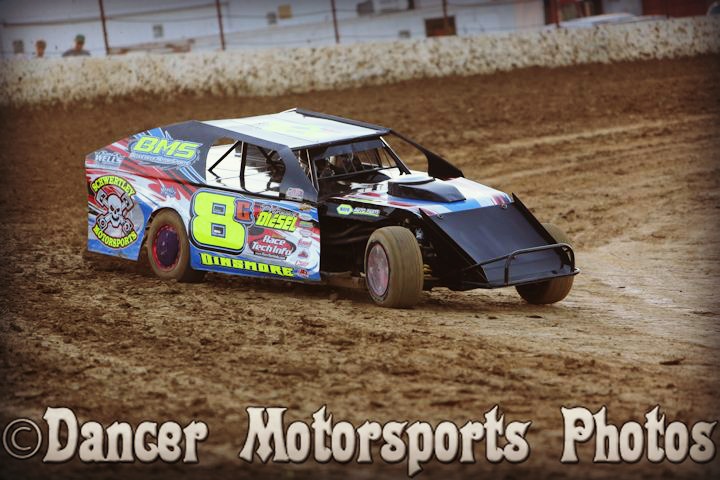 By J.M. Hallas
PAIGE, Texas (May 17) – Greg Dinsmore got back in the winner's circle Saturday night at Cotton Bowl Speedway, the 3/8 mile, semi-banked, clay oval, just east of Austin. After recording a victory in his heat race, Dinsmore started outside the front row in the 20-lap IMCA Xtreme Motor Sports Modified feature and led all 20 laps on his way to the checkered flag.
The former Mountain Home and Pleasanton track champion took some time off to enjoy time with his family and focus on his business, Sundowner RV & Truck Repair. Dinsmore ran a very limited number of races, most of which were out-of-state, over the past two years and just recently began running the new Paig track.
During his time off, Dinsmore picked up a new BMS Chassis that he has been learning while working out the new car blues. Saturday night he had everything go his way holding off the rest of the 19-car field, including former IMCA national champion and current track point leader Keith White.
In a race slowed by three cautions, White caught Dinsmore briefly on the final yellow. The duo battled hard with Dinsmore keeping the top spot and he was able to keep White in his wake as he motored on to the win, in only his second race at the track. Saturday's win followed up a strong run last weekend that was foiled by a flat tire while running second.
"This is really an awesome facility," said Dinsmore. "They've made some great strides since I ran a Late Model here before. The people and the quality of racers here are some of the best I've seen."
"I had a good lead until that final caution. Keith got around me on the restart after I hit a rut and pushed a bit," he added. "I was able to outrun him on the back stretch to get the lead back. This car has a crazy amount of forward bite and made a lot of difference in getting the win."