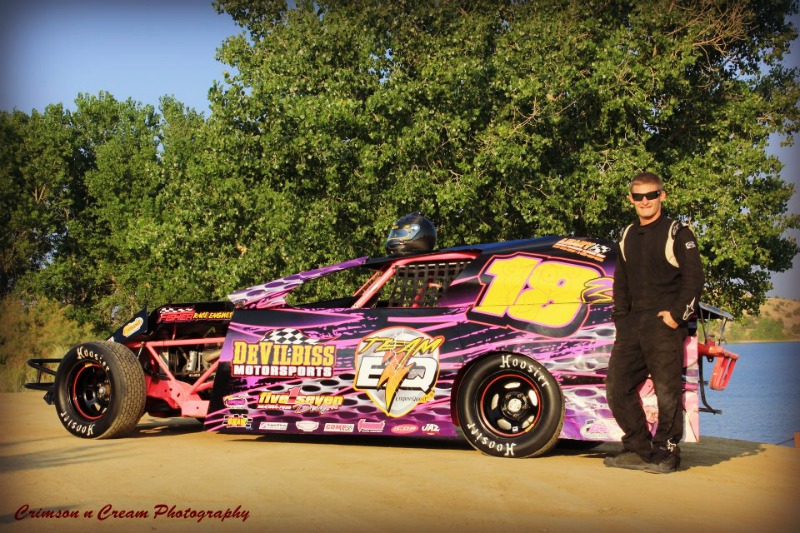 FARMINGTON, N.M. (May 9) – After a relatively short five-hour tow, one of IMCA's most traveled driv­ers could cross off another item on his racing to-do list.
Zane DeVilbiss journeyed the Desert Thunder Raceway in Utah to win the Friday, May 9 IMCA Xtreme Motor Sports Modified feature. The victory was the career 100th for DeVilbiss, the 2010 national champion and four-time defending king in the Larry Shaw Racing Western Region.
"Winning the national championship is the biggest thing I've done in IMCA but getting 100 wins is the next. It blows my mind that we've been able to win that many times," he said. "It's something I never thought about being able to do."
"I can remember maybe five years ago reading about Brad Pounds (who won his 100th career feature the next night) getting his 50th win and thinking that was a crazy number," DeVilbiss added. "When IMCA called me this year and said I was getting close to 100, that was crazy, too."
DeVilbiss got his first wins in the sanctioned division in 2006. He's been in double figures wins-wise four straight years with a career-best 21 during his national championship campaign.
"There were a lot of changes I made before that season and the most important one was that my dad Nick began helping me," he said. "That's when things really started to click."
The feature win numbers and championships – DeVilbiss also owns EQ Cylinder Heads Wild West Tour and Ironman Challenge Series titles in addition to five local track crowns – are easy to record and report.
It's much harder to keep track of how many tracks DeVilbiss has raced at or the number of miles he's driven getting there.
"We' tried to figure out last fall how many different tracks I'd raced at and we came up with 57. I've won at somewhere close to 30 of them," he figures. "There are some that we've had a lot of luck at, like Desert Thunder, and others like Canyon Speedway Park in Arizona where I'm about 0-for-20. It seems like every time I race there I wreck or spin myself out."
Racing for points in the broad expanses of the Western Region requires a unique level of commit­ment. Aztec Speedway is virtually next door when compared to 300-600 mile jaunts DeVilbiss makes nearly every weekend during the season.
"How far have we traveled miles-wise? Whew, I know we've done over 50,000 each of the last five years. It's so many some years it's unbelievable," he said.