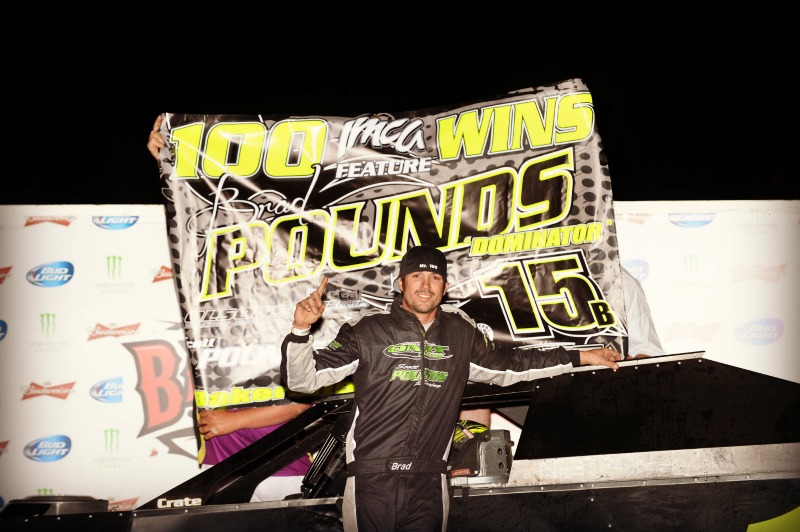 BAKERSFIELD, Calif. (May 10) – The winning driver might not even have been the happiest person in victory lane Saturday night at Bakersfield Speedway.
Brad Pounds raced to the 100th feature victory of his IMCA Xtreme Motor Sports Modified career and then shared in the accomplishment with his father Scott, IMCA's national champion in 1994 and an 82-time winner in the same division during his own career.
"My dad was just on top of the world about it. It means a lot to both of us to have the top two win totals in the state," Pounds said. "We work real hard at this. He's given me 100 percent of his knowledge. We've learned together and tried to have fun."
Pounds started sixth in the main event and caught Roger Holder for the lead on the 17th of 25 laps.
"I was hoping I wouldn't get stuck trying to get to 100," he admitted. "I showed up at the track Satur­day pretty confident and ready to do what I needed to win."
"I wasn't nervous before the race but I was definitely relieved afterwards," Pounds added. "There were a bunch of guys in there who I knew could give me a pretty good run."
Friend and Karl Chevrolet Northern SportMod driver James Cecil came up with the Mr. 100 hat Pounds wore in victory lane.
Girlfriend Tina McGowan – another Northern SportMod driver – had a hand in the pre-race subter­fuge, ordering the congratulatory banner and picking it up under the guise of running er­rands Saturday morning.
It stayed tucked away and out of sight in Levi Kiefer's trailer until after the checkers flew that even­ing.
"I was pretty surprised by everything," Pounds said. "I was glad they did all that for me."
Pounds won for the first time in a Modified in 2002. He had a single-season best 12 feature wins each year from 2007-2009 and is the three-time and defending track champion at Bakersfield.
"Getting 100 wins was never a goal when I started racing. It's cool that I got to do it in my hometown," said Pounds. "It was awesome to do it front of the Bakersfield fans and the people who support me. I was glad the people who don't like me got to see it, too."
He's the 38th IMCA Modified driver to reach the 100 career win mark.