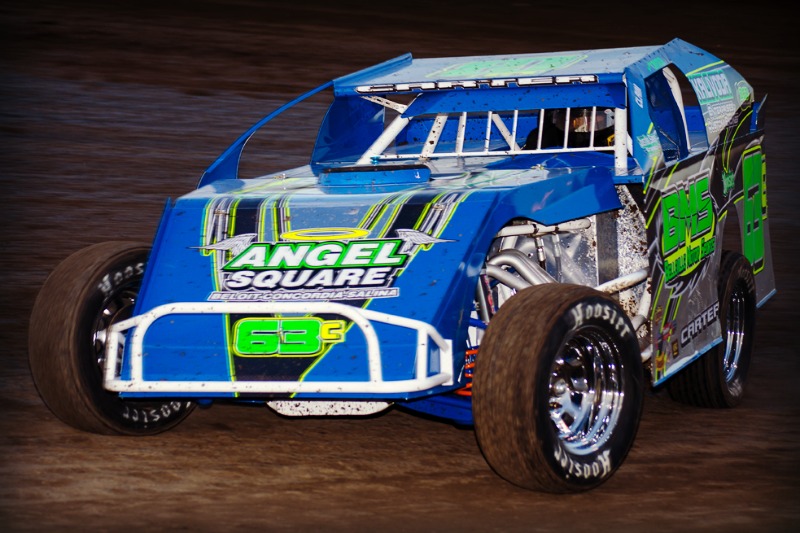 By Larry Lowrey Jr.
SALINA, Kan. – For the first two weeks of the season everything has been going great at Salina Speedway … good crowds, a lot of competitors and great racing have highlighted the beginning of the season.
The big question on everyone's mind is can Austin Carter keep up his winning ways this Saturday night, May 9 in the M&H Motors IMCA Northern Sport Mod division?
Carter has been on a roll since taking the win on opening night and that is an impressive feat considering the talent and competition he has to face on a nightly basis. This week's race could determine whether the youngster is quickly becoming the next big thing or if another hotshoe in the class is ready to knock him off.
The Northern Sport Mod division isn't the only big race to watch this Friday night. Last week's races displayed a little bit of everything in the world of racing. Late lap victories, lots of wheel to wheel action and even domination.
The Belleville Motor Sports IMCA Modifieds saw the domination characteristic in the feature event. Brian Knoell, a longtime veteran of the division, took the lead from the pole position and never looked back. It also marked the second straight week where there was a new winner in victory lane.
In the Budweiser IMCA Hobby Stock feature, Mike Traskowsky became the second different feature winner in the division by outdueling Aaron McBride.
Delbert Smith, the winner from night one in the BSB Manufacturing Late Models, looked as if he would take home a win on night two, but it was Darrick Klima who would come up with the victory at the checkers. Goeff Jermark was the king of the Coors Light Street Stock class and Stacey Huffman charged to the front of the field for the win in the Chamucos Night Club Mini Stock feature event.
This week's lineup will feature the BSB Manufacturing Late Models, Belleville Motor Sports IMCA Modifieds, M&H Motors IMCA Northern Sport Mods, Budweiser IMCA Hobby Stocks and the AutoHouse Towing Mod Lites.
Racing gets started Friday with hot laps at 7:15 p.m. The racing action goes green shortly after the completion of hot laps.
Ticket prices are $10 for adults and seniors (55 and over) are just $5. All active and retired military (with appropriate ID) and kids ages 15 and under accompanying a paid adult receive free admission to the grandstand.