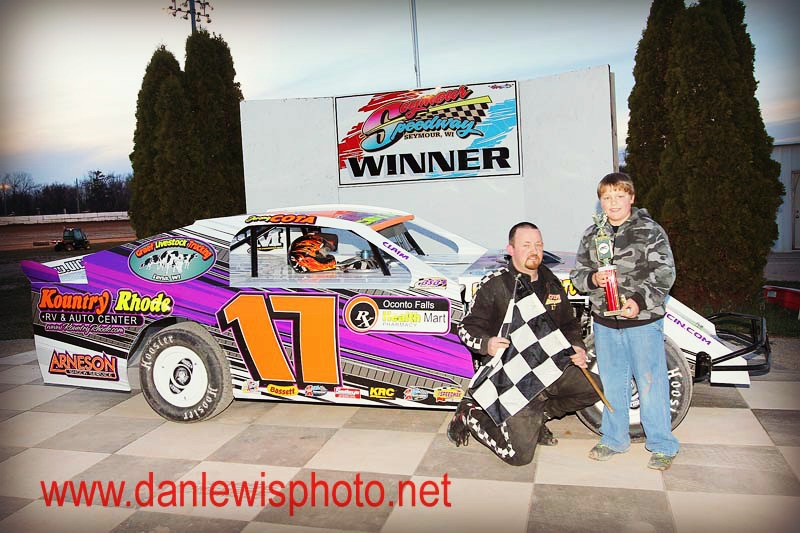 By Dave Panske
SEYMOUR, Wis. (May 4) – On the best night for racing in the area so far this season, N.E.W. DIRT opened its 31st season at Seymour Speedway Sunday night. A field of 94 cars checked in and a hardy crowd witnessed a fast paced, competitive night of racing.
Lucas Lamberies led the opening three circuits of the Karl Chevrolet SportMod main before Andy Kleczka took the outside line to front. On lap seven, Jeremy Cota moved into second. Kleczka stayed in the high groove with Cota running low.
Over the final five laps, Cota kept inching alongside Kleczka. Kleczka was half a car length ahead with two to go and the pair crossed the line even under the white. Cota got a better jump off turn two on the final lap and was able to hold off Klecka to pick up the win.
Bill Kelsey set the pace for the first six laps of the Coors Light IMCA Sunoco Stock Car main.
On lap seven, Mike Coel inched into the top spot but John Heinz moved into the runner-up spot and took over the lead on lap nine. Heinz maintained control but when completing lap 11, his ma­chine exploded and spun around in front of the field. Fortunately, the spin went to the inside and Heinz rolled the car backwards with traffic to avoid a more serious accident.
Frederick inherited the lead with Brandon Czarapata taking second. Czarapata hooked up on the inside of the track and took the lead one lap later.
Rod Snellenberger and Coel made it tough on the leader until a final caution on lap 16 when Coel tagged Snellenberger and sent him up to the wall. Snellenberger was put back in second with Coel going to the back.
Czarapata held on for the final four laps and the win.
Jamie Schmidt outdueled pole sitter Mike Wedelstadt for the lead on the opening lap of the Bud­weiser IMCA Modified feature and, after a couple laps, settled into a perfect rhythm in the high groove to start to pull away from the field.
The win for Schmidt was his first here since Aug. 8 of 2010.