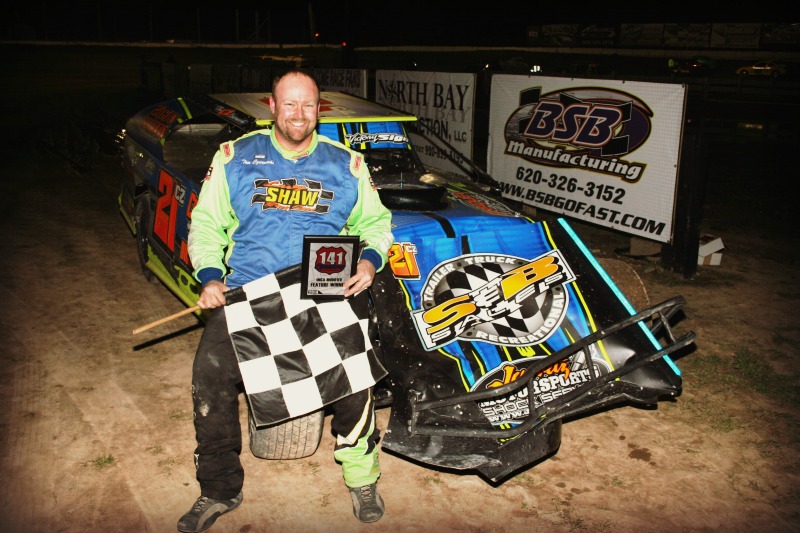 By Greg Aregoni
FRANCIS CREEK, Wis. (May 3) – Tim Czarneski stepped up to win round one of the Red, White and Blue Series and $1,000 Saturday night at 141 Speedway.
The victory in the first of three RW & B specials for IMCA Xtreme Motor Sports Modifieds at 141 this season put Czarneski on the ballot for the 2014 Fast Shafts All-Star Invitational. It also gave him an early leg up in the race to win a 604 crate engine from series sponsor Gandrud Chevrolet.
Traveler Darin Duffy found himself the early leader of a race that saw cautions slow the early going. Duffy put distance on the field through the first five laps. Czarneski then found the high line and started to reel in the frontrunner.
"I wanted to pass him off of turn two when I caught him but he pushed in (corners) three and four, so that's when I dove inside for the lead," Czarneski said of what proved to be his race-winning pass on lap eight.
Czarneski then moved back up top and left everyone to fight behind him. With Duffy solidly in second, the final half of the race was a battle between Shawn Kilgore, Benji LaCrosse and Brad Lautenbach for third.
Czarneski grazed the wall with a lap to go but nothing was hurt as he drove to the win three-fourth's of a straightaway ahead of Duffy. Kilgore, LaCrosse and the 17th starting Lautenbach completed the top five.
Rod Snellenberger was the IMCA Sunoco Stock Car winner. Kevin Bethke never missed a beat and hit all his marks in picking up his career first Karl Chevrolet Northern SportMod win by nearly a full straightaway.
A total of 145 cars checked into the pits at Francis Creek to compete. The Red, White and Blue Series continues July 5 and concludes Aug. 9.