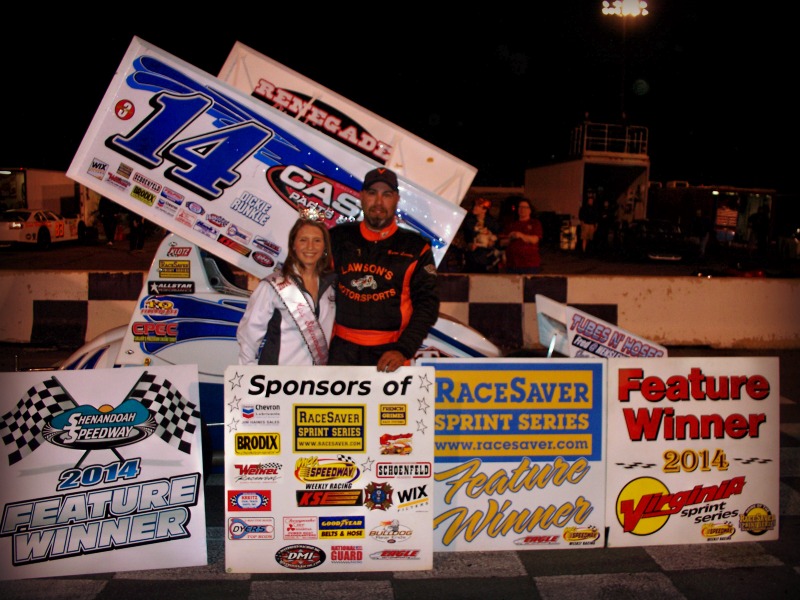 By Jim Haines
SHENANDOAH, Va. (May 3) – Long haul trucker Brian Lawson knows about hauling fast freight and showing up on time and Saturday night he showed up at the finish line on time and first in the Vir­ginia Sprint Series feature at Shenandoah Speedway.
The third different winner in as many IMCA Eagle Motorsports RaceSaver Sprint Car tour events this season, Lawson led the last 10 circuits.
Charlie Ware and Chris Ware brought the field to green and Chris Ware led the first lap before Anthony Linkenhoker took over and began making good time. Laps on the pavement clicked off quickly.
Tony Harris broke a logjam at the front and got by for the lead. Lawson was right there with them, got around Linkenhoker a couple laps later and was challenging the leader right away.
With 10 laps to go, Lawson got around Tony Harris as Jerald Harris, French Grimes and Tom Humphries tried to stay in contention.
Lawson stayed in front, Jerald got by to second and Humphries made his move to third with the white flag waving.
No one would get by Lawson, however, as he as flashed under the waving checkered flag first.
The next race for the series will be Saturday, May 24 back at Shenandoah as the race posted for May 17th at Fort Mountain Raceway in Bassett, Va., has been postponed.
Feature results – 1. Brian Lawson; 2. Jerald Harris; 3. Tom Humphries; 4. Tony Harris; 5. French Grimes; 6. Anthony Linkenhoker; 7. Chris Ware; 8. Carl Simmons; 9. Ron Moyers; 10. Charlie Ware.