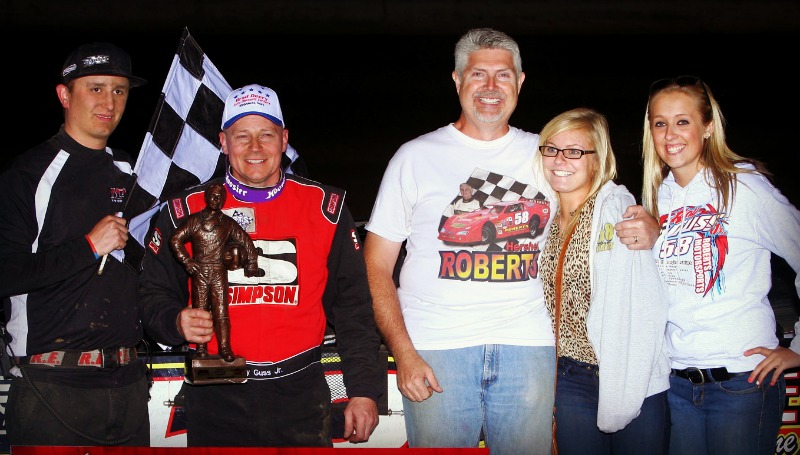 EAST MOLINE, Ill. (April 29) – The Hershel Roberts Memorial has known no other winner than Ray Guss Jr.
Guss, from Milan, will try to win the Deery Brothers Summer Series event held to honor his late friend, car owner and fellow driver for the fourth straight time this Sunday, May 4 at Quad City Speedway.
The IMCA Late Model tour feature pays $3,000 to win and a minimum of $300 to start.
Pit gates at East Moline will open at 3 p.m. and the grandstand opens at 3:30 p.m. Hot laps are at 5:15 p.m. with racing to follow.
Spectator admission is $16 for adults, $8 for kids ages 6-12 and free for five and under. Pit passes are $30.
More information is available at the www.qcspeedwayracing.com website or by calling 309-792-5030. IMCA Xtreme Motor Sports Modifieds, street stocks and midget lites are also on the card.
Tentative rain date is Sunday, May 11.
A dozen series events had been held at East Moline with just a single repeat winner – Rob Toland of Colona in 1998 and 2004 – before Guss launched his streak of three straight Roberts Memorial victories in 2011.
Only one driver in Deery Series history has won four consecutive events at the same track. Mark Burgtorf of Quincy accomplished the feat at Lee County Speedway over the course of the 1998-2000 seasons.
Deery Brothers Summer Series top 20 point standings – 1. Justin Kay, Wheatland, Iowa, 140; 2. Andy Eckrich, Oxford, Iowa, 139; 3. Ryan Dolan, Lisbon, Iowa, 132; 4. Colby Springsteen, Wapello, Iowa, 129; 5. Tyler Bruening, Decorah, Iowa, 127; 6. Tommy Elston, Keokuk, Iowa, 126; 7. Jason Rauen, Farley, Iowa, 125; 8. Joel Callahan, Dubuque, Iowa, 120; 9. Matt Ryan, Davenport, Iowa, 119; 10. Jeff Aikey, Cedar Falls, Iowa, 117; 11. Scott Fitzpatrick, Long Grove, Iowa, 101; 12. Darrel DeFrance, Marshalltown, Iowa, 100; 13. Nate Beuseling, Silvis, 98; 14. Rob Moss, Iowa City, Iowa, 92; 15. Terry Neal, Ely, Iowa, 88; 16. Denny Eckrich, Tiffin, Iowa, 86; 17. Ray Guss Jr., Milan, 85; 18. Jon Merfeld, Dubuque, Iowa, 83; 19. Ron Klein, Sherrill, Iowa, 77; 20. Jeremy Grady, Story City, Iowa, 75.