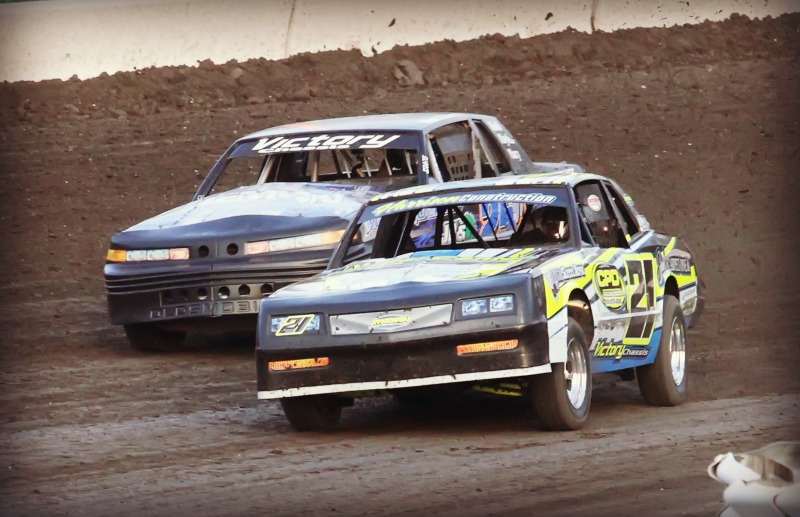 By Jeremy Fox
WEBSTER CITY, Iowa (April 26) – Myles Michehl debuted a new car and won a thriller in the Casady Brothers Implement IMCA Hobby Stock 15-lap feature on opening night Saturday at Hamilton County Speedway.
Michel worked his way up from seventh starting to challenge Randy Embrey and finally gained the lead on lap 11. He went on to take the win while Craig Graham worked his way by Embrey late in the race to finish second with Embrey in third. Mundt and Roe finish fourth and fifth respectively.
The Chalfant Plumbing and Neighbors Heating and Cooling IMCA Late Model 20-lap feature saw Darrel DeFrance and Curt Schroeder on the front row. The initial start was called off but on the restart it was DeFrance grabbing the lead.
DeFrance never looked back as he cruised on to the easy win. Schroeder finish second.
Chase Ellingson and Nick Roberts lead the George White Chevrolet IMCA Modifiedfield to the green and it was Roberts grabbing the lead and never looking back as he won by a full straightaway.
Mark Elliott worked his way to second and tried to chase down the youngster but was unable to do so and settled for second.
Jared Van Deest was first across the finish line in a Conley's Trucking IMCA Northern SportMod feature that ended green, white, checkered.
Tommy Beekman lead the entire distance in the eight-lap Oberhelman Motorsports IMCA Sport Compact feature.
After being rained out the two previous weeks, Hamilton County Speedway got its 76th season underway with 77 race teams signed in to compete for new promoter Jason Van Sickel.