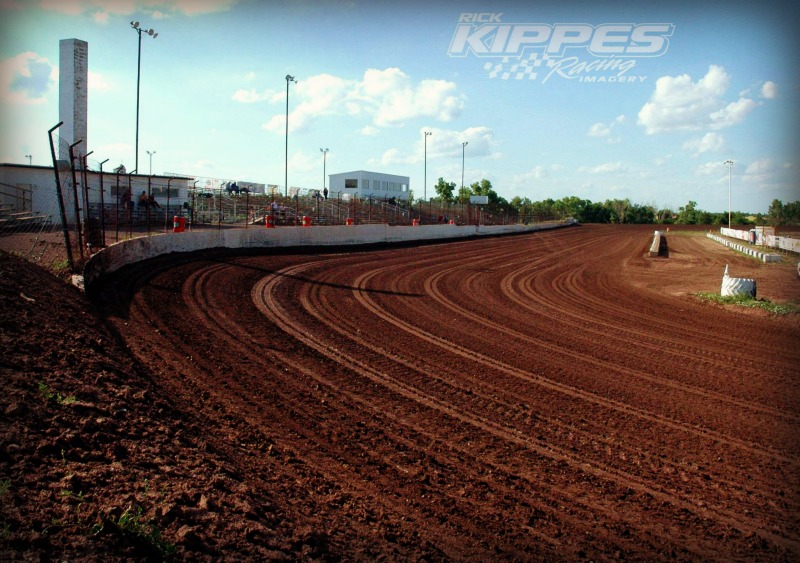 By John Lowery
SALINA, Kan. – It's been a long off season for many tracks. Salina Speedway is one of those tracks that spent the off-season working hard to make racing experience better for both the racers and the fans.
This Friday night, April 25, all of the hard work in the off season will pay off as the first of 24 dates kicks off just after 7:15 p.m.
Salina Speedway hosts the best of the best when it comes to dirt track racing on a weekly basis. There are seven classes that comprise the weekly show:
BMS IMCA Modifieds, M&H Motors IMCA Northern Sport Mods, Budweiser IMCA Hobby Stocks BSB Manufacturing Late Models, sanctioned by the Nesmith Crate Late Model Series in 2014, Coors Light Street Stocks, AutoHouse Towing Mod Lites and the T&R Dirt Construction Mini Stocks. Each division will battle it out every week to see who can end up in the Xtreme Motorsports Victory Lane.
The class of race cars aren't the only attractions at Salina Speedway, as the drivers add just as much character. All 2013 champions will be back to defend their titles this season. Delbert Smith will be ready to take on any and all comers in the Late Model division, Joe Cleveland, the two-time defending champion, is ready to defend his hard-fought IMCA Modified championship, one of the toughest competitors around is Tyler Frye in the Northern SportMods and Mike Trasowsky will see plenty of competition as he tries to repeat in the IMCA Hobby Stock class. Duane Toyne, Justin Kinderknecht and Brian Dunsworth are other returning champions that will look for another title. Each champion will find the going tough in 2014 as the competition has gotten stronger since a year ago.
Salina Speedway has made a lot of track improvements in the off season that will be evident on opening night, but the fans might be hoping for a new promotion to be put into effect every single race night.
Beginning in 2014 if there are 1,500 fans in attendance on a given race night the following week fans will be given half priced admission. That means $5 will get you into see the greatest show on dirt. In this tough economy, promoter Tommy Hendrickson and his staff wanted to go above and beyond to help the fans out. This promotion should get everyone fired up about saving money and getting to see great racing. This is only the first promotion of the year, fans will have to wait and see what will follow this one.
Hendrickson didn't forget the racers this season either as he put together the Scoggin-Dickey Chevrolet Crate Challenge for drivers competing in the three IMCA divisions. A driver who races the entire season minus one race for 2014 season will be eligible to win a free 604 crate motor (Modifieds) or a free 602 crate motor (Northern SportMods/Hobby Stocks) to be given away at the year end banquet. The drivers who win the crate motors will also have to be at the banquet but that is a small price to pay for taking home a brand new power plant!
Racing action gets started Fridays with hot laps at 7:15 p.m. and the racing action goes green shortly after the completion of hot laps.
Ticket prices are $10 for adults and seniors 55 and over are just $5. All active and retired military personnel get into the grandstand free as do kids 15 and under when accompanying a paid adult.
Fans wanting to get the 411 on Salina Speedway just need to stay logged in t0 www.racesalinaspeedway.com. As fans visit the site take a look at the 2014 schedule to see what classes are running, great stories and results and sign up for the text a email blasts. You can also like the Facebook page at www.Facebook.com/SalinaSpeedway or follow on Twitter @SalinaSpeedway1.
Salina Speedway is located at 2841 South Burma Road, Salina, Kan., 67401. If you more questions or would like to see about becoming more involved at Salina Speedway call 785 292-9220.