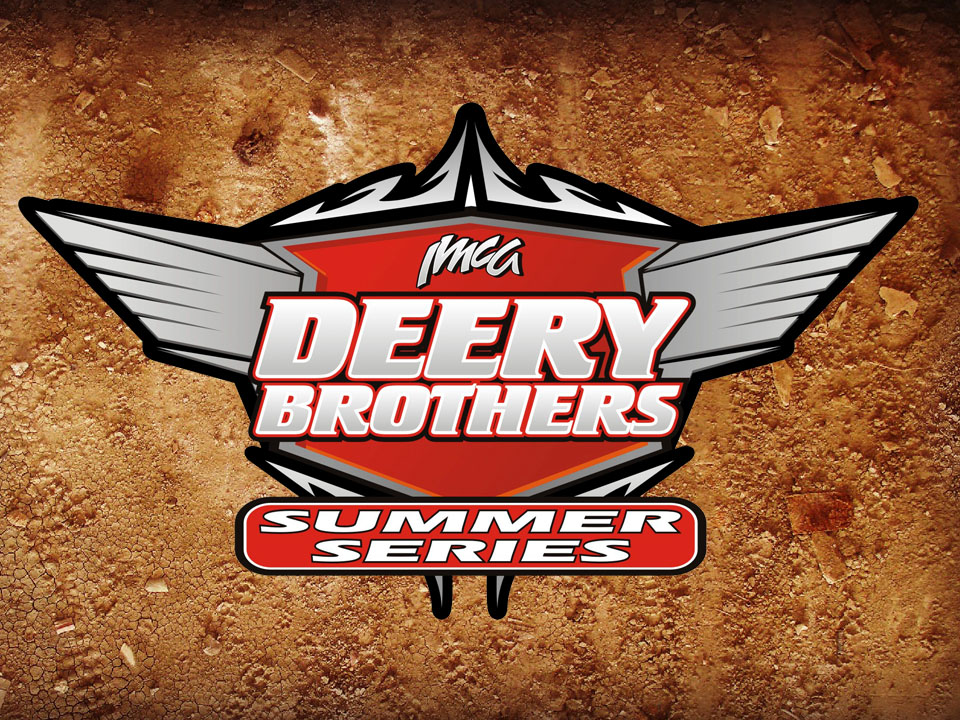 FARLEY, Iowa (April 15) – Two more tracks with strong Late Model traditions take their turns hosting Deery Brothers Summer Series events this weekend.
Farley Speedway rolls out the red carpet for the IMCA Late Model tour on Friday, April 18. The series then travels to Jackson County Speedway at Maquoketa for a Saturday, April 19 show. Each feature pays $3,000 to win and a minimum of $300 to start.
Pit gates open at 5:30 p.m. and the grandstand opens at 6 p.m. Friday at Farley. Hot laps are at 7 p.m. with racing to follow. IMCA Xtreme Motor Sports Modifieds are also on the card and both divisions will run on the half-mile track.
Grandstand admission is $16 for adults, $14 for seniors, $10 for students and free for kids 12 and under. More information is available by calling 563 744-3620 and at the www.simmonspromotionsinc.om website.
Jackson County opens the pit gates at 4 p.m. and the front gate at 5 p.m. Hot laps are at 6 p.m. Saturday with the first race set for 6:30 p.m. Sanctioned Modifieds and Karl Chevrolet Northern SportMods, along with 4-stocks, hobby stocks and outlaw super bombers, round out the program.
Admission for spectators is $17 for adults, $15 for seniors, $12 for students and free for kids 12 and under. The track website is www.darksidepromo.com; additional information is also available by calling 563 590-4095 or 563 495-2503.
Pit passes are $30 each night.
Colby Springsteen of Wapello, winner of the feature last Saturday at West Liberty Raceway, is one point better than Justin Kay of Wheatland and seven ahead of Oxford's Andy Eckrich in the early standings.
Eckrich took the opening night checkers at Davenport Speedway on April 11.
IMCA's weekly point season for Late Models begins April 25. The Deery Series is at Quad City Speedway in East Moline, Ill., on Sunday, May 4 and at Boone Speedway for the Memorial Day special Monday, May 26.
Deery Brothers Summer Series top 20 point standings – 1. Colby Springsteen, Wapello, 97; 2. Justin Kay, Wheatland, 96; 3. Andy Eckrich, Oxford, 90; 4. Tyler Bruening, Decorah, 88; 5. Ryan Dolan, Lisbon, 87; 6. Denny Eckrich, Tiffin, 86; 7. Ray Guss Jr., Milan, Ill., 85; 8. Jason Rauen, Farley, 83; 9. Joel Callahan, Dubuque, and Tommy Elston, Keokuk, both 80; 11. Matt Ryan, Davenport, 78; 12. Brian Harris, Davenport, 72; 13. Jeff Aikey, Cedar Falls, and Darrel DeFrance, Marshalltown, both 69; 15. Jay Johnson, West Burlington, 61; 16. Scott Fitzpatrick, Urbandale, 58; 17. Rob Moss, Iowa City, 57; 18. Jon Merfeld, Dubuque, 56; 19. Jeremy Grady, Story City, and Kyle Hinrichs, Swisher, both 55.