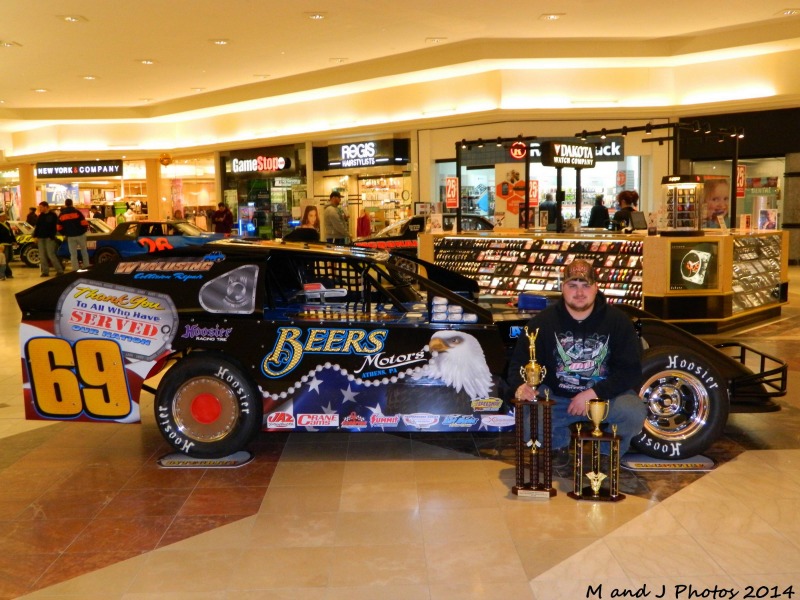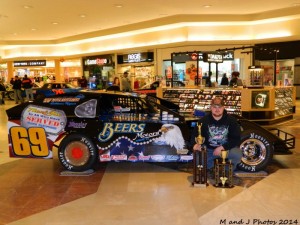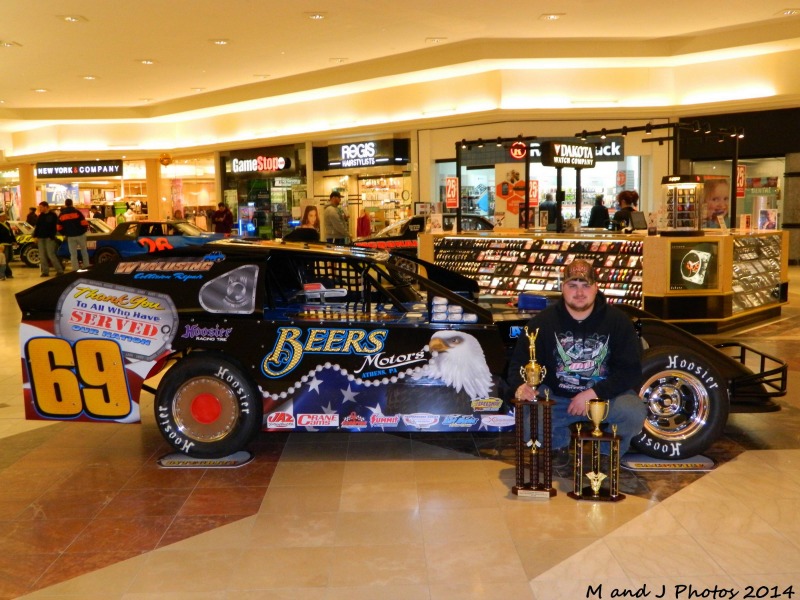 WYALUSING, Pa. – Jake Maynard is driving a dream while paying tribute to the men and women who have served our country in all branches of the armed forces.
The 18-year-old from Wyalusing, Pa., is the driver of an award-winning IMCA Xtreme Motor Sports Modified with a military theme.
Names of 123 service members dating from the Civil War through Operation Enduring Freedom are listed on "dogs tags" on the body of the car.
An eagle and American flag are on each door panel and POW/MIA banners on the side panels. Conflicts dating from the Civil War to operation Enduring Freedom are inset in the car numbers.
"This is our way of saying thanks to all service men and women who kept us free," said Maynard. "We want them to know how much we appreciate and care about them."
"What I'd like to do most is to come out to Iowa and race it at Super Nationals," he added, "but that won't happen this year. I'll be starting my freshman year at the University of Northwest Ohio."
The Dirt Works chassis is owned by Maynard's father Billy. He had the original idea for the tribute car and his Graphix By Billy designed, produced and installed the graphics.
The car went on to receive both the Bob Whitman Memorial Best In Show and Jan Billings Memo­rial Best Appearing IMCA Modified awards at the Southern Tier Speedworld Show in Johnson City, N.Y., earlier this month.
"My dad, mom and I had just been sitting in the living room, watching TV, when dad said 'How about we do a military tribute car?" Maynard recalled. "I said that sounded like a good idea and mom said she'd never seen one with dog tags."
Needing to get the design done, the Maynards set a deadline date of three weeks, then went to Facebook and a local racing forum asking for submission of names of service men and women.
"We decided to do a military tribute theme on the car to honor not just the injured, but all men and women, past and present, who have served in our nation's military," explained Billy Maynard. "We wanted it to represent all branches (Army, Navy, Air Force, Marines, National Guard and Coast Guard), as well as all conflicts our country has been involved in."
"Many people included stories about those whose names they submitted. Some were killed in action and some are missing in action," he added. "The father of a soldier killed in Iraq in 2006 sent us replicas of his son's dog tags to hang in the car for luck."
News about the tribute car spread with the publication of stories in racing and other media. The Maynards were also asked about displaying the car at a local American Legion Post event as well as during the largest Volunteer Firemens' Carnival in the area.
"We announced on Facebook and RaceNY.com the giveaway of four tickets to the fall night race for the Sprint Cup Series in Richmond, Va. Only past or present service men and women may enter and there is no cost for them to do so," Billy Maynard said. "More information is on our Face­book page, MEI Motorsports, as well as in the racing discussion section on RaceNY.com."
We are proud to honor those who have served and to do this ticket giveaway as a way of saying thank you," he continued. "We are also proud to say we are IMCA Modified competitors. We love this division so much that we have no desire to race anything else … it's this, or nothing. We be­lieve in the IMCA philosophy and approach to the rules. The organization is very well run and does a terrific job of giving back to the racers."
Team MEI's home track is Five Mile Point Speedway in Kirkwood, N.Y. They may also hit a cou­ple shows at I-88 Speedway in Afton, N.Y., and Clinton County Raceway in Lock Haven.
The car was purchased out of North Carolina two years ago and has an interesting history dating from the day the Maynards drove through tornado warnings to pick it up in Virginia.
"The design was chosen to highlight the details and the response has just been great," Maynard said, noting that four of the service men listed are relatives. "It's made us feel pretty good as a team and as a family. The first time I saw an IMCA Modified I knew I wanted to drive one. Now I guess I'm driving a dream."
In addition to Graphix By Billy, Maynard is sponsored by Forbes Machine Shop and The Barber­shop, also of Wysox; Beers Motors and S & A Construction, both of Athens; Wyalusing Collision Repair; Ayers Chiropractic of Tunkhannock; Horizon Powder Coating of Williamsport; Diamond Ed Carbs of Rome; J Orishack Seal Coating and D & J Fotos, both of Monroeton; and Flying Cow Bakery, A.C. Smith NAPA Auto Parts and M & J Photos, all of Towanda. The body is from Performance Bodies in Cedar Falls, Iowa.
His crew includes his parents Bill and Darlene, brother Mitchell, grandfather Neil Brown, uncle John Maynard, girlfriend JaLynn MacNelley, Mike Benjamin and Ken Murphy.