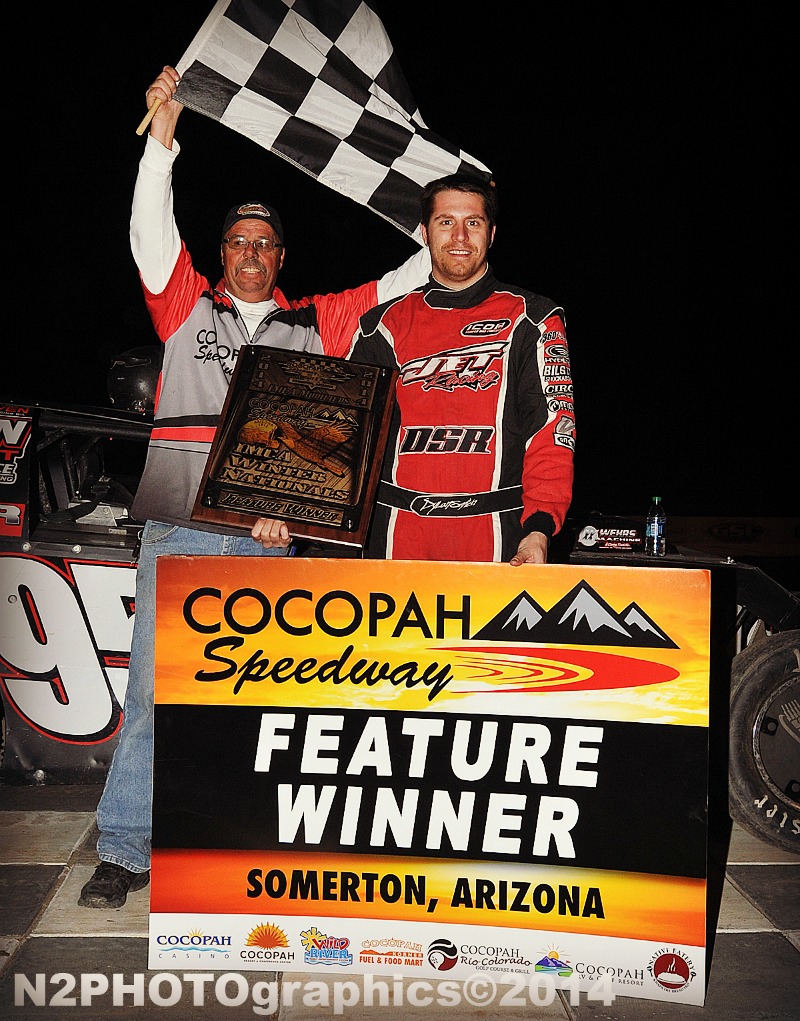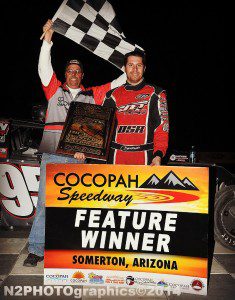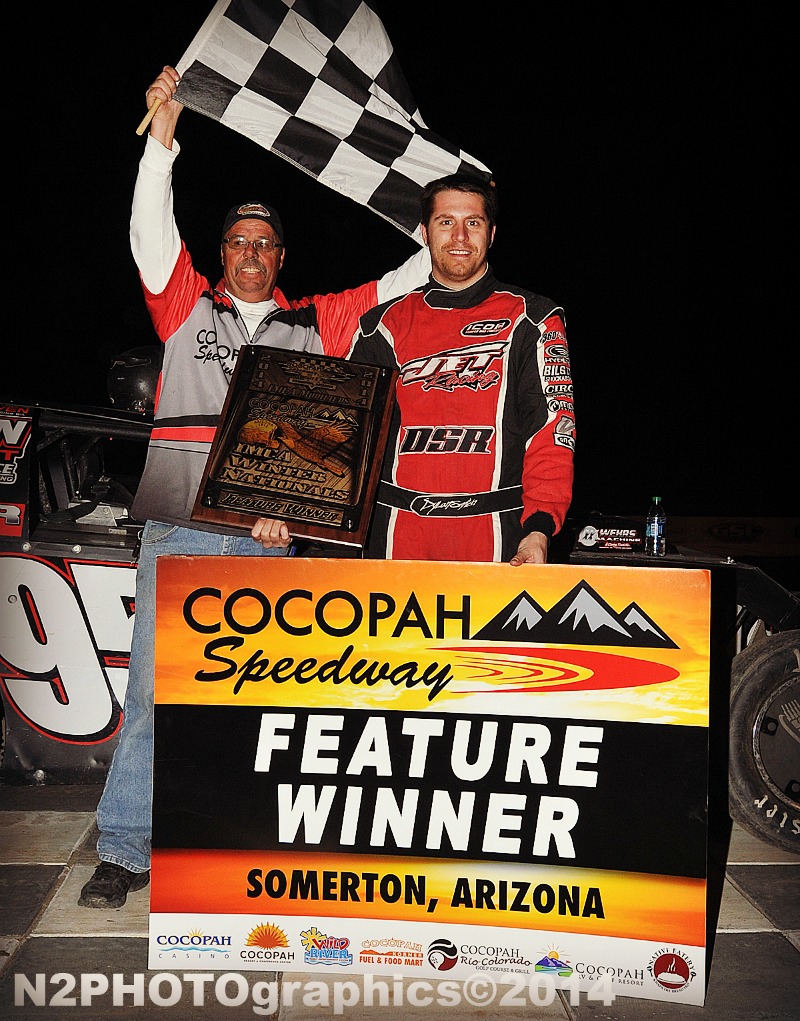 SOMERTON, Ariz. (Feb. 7-8) – Despite his lengthy record of success, Dylan Smith has never started a race season quite like this.
Smith swept weekend IMCA Xtreme Motor Sports Modified Winter Nationals features at Cocopah Speedway, earning $1,000 for each of his Friday and Saturday night victories.
"It's a great way to start the season," said the former national champion and defending IMCA Speedway Motors Super Nationals fueled by Casey's king. "I've never won right out of the box like this before. It was kind of different for me."
Smith started Friday's 25-lapper from outside row two and passed pole starter Kent Rosevear for the lead on the fifth circuit. Sixth starting R.C. Whitwell moved up to challenge on the inside before Smith took the faster lower line away.
After encountering lapped traffic with eight to go, frontrunners were forced to use all three grooves to negotiate their way through the field. Smith took the win ahead of Whitwell, Marlyn Seidler, Justen Yeager and Ricky Thornton Jr.
Yeager and Thornton both advanced 10 places from their spots on the initial grid.
Saturday's Modified main at Somerton was 30 laps and after starting third, Smith led the last 22 times around the oval. He was catching up with the back of the pack and was forced to evade a spinning car that brought out the caution just before midway.
Smith again used the lower line to his advantage to drive through lapped traffic and collect his 90th IMCA career feature win.
Thornton, the top driver in Winter Challenge Series point standings, ran a close second. Scott Drake, Jesse Sobbing and Yeager completed the top five.
Brock Beeter won both IMCA Sunoco Hobby Stock features at Cocopah while Ben Kates and Chris Toth split Karl Chevrolet Northern SportMod top honors.
All three divisions are in action again Feb. 14 and 15 for Winter Nationals finales. Friday's Modified main pays $1,000 to win while Saturday's checkers are good for $3,000. Both events are also 2014 Fast Shafts All-Star Invitational ballot qualifiers.
Feb. 7 Feature Results
Modifieds – 1. Dylan Smith; 2. R.C. Whitwell; 3. Marlyn Seidler; 4. Justen Yeager; 5. Ricky Thornton Jr.; 6. Ryan Roath; 7. Tim Ward; 8. Jesse Sobbing; 9. Jay Noteboom; 10. Scott Drake; 11. Jeff Streeter; 12. Larry Hood; 13. Bobby Horton; 14. Eric Center; 15. Russell Allen; 16. Chris Olexiewicz; 17. Keith Taber; 18. Aaron Mari; 19. Donald Robinson; 20. Tyler Mecl; 21. Michael Martin; 22. Kent Rosevear; 23. Mike Corning; 24. Ryan Gaylord.
Hobby Stocks – 1. Brock Beeter; 2. Brad King; 3. Leonard Manos; 4. Brent Wofford; 5. Jason Beshears; 6. Andrew Sebastian; 7. Brian Johnson; 8. Craig Ebers.
Northern SportMods – 1. Ben Kates; 2. Timmy Reese; 3. Chris Toth; 4. Josh Wood; 5. Keith Smith; 6. Cody Daffern; 7. Rick Diaz; 8. James Dupre; 9. Schannon Mohamed; 10. Eric Winemiller; 11. Sean Callens; 12. Nick Spainhoward; 13. Ron Pegues; 14. Joshua Cordova.
Feb. 8 Feature Results
Modifieds – 1. Smith; 2. Thornton; 3. Drake; 4. Sobbing; 5. Yeager; 6. Seidler; 7. Noteboom; 8. Spencer Wilson; 9. Whitwell; 10. Gaylord; 11. Lance Mari; 12. Olexiewicz; 13. Allen; 14. Hood; 15. Robinson; 16. Horton; 17. Roath; 18. Steve Stultz; 19. Center; 20. Mecl; 21. Streeter; 22. Bert Beech; 23. Corning; 24. Ward.
Hobby Stocks – 1. Beeter; 2. King; 3. Ebers; 4. Wofford; 5. Manos; 6. Sebastian; 7. Johnson.
Northern SportMods – 1. Toth; 2. Kates; 3. Smith; 4. Reese; 5. Dupre; 6. Diaz; 7. Daffern; 8. Wood; 9. Callens; 10. Winemiller; 11. Mohamed; 12. Spainhoward; 13. Pegues.
30