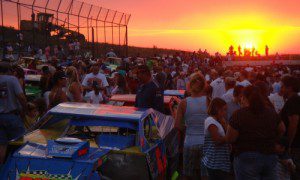 BELGRADE, Mont. ­– Gallatin Speedway has become the most recent track in Montana to sanction with IMCA.
IMCA Xtreme Motor Sports Modifieds will run Friday nights at Belgrade beginning this season.
The 3/10-mile semi-banked dirt oval is promoted by David Weisz and had previously sanctioned its Modifieds with WISSOTA. The 2014 schedule is to be announced.
The three dirt ovals in the state will run IMCA Modifieds this season: Billings Motorsports Park and Electric City Speedway in Great Falls became the first two tracks in Montana to announce their plans to sanction with IMCA last November.
"It's good for these tracks to be on the same program. Making the move collectively benefits them and their Modified drivers," IMCA Vice President of Operations Brett Root said. "We're grateful for their faith in our rules and in this organization as a whole."
Gallatin Speedway will be part of IMCA's Larry Shaw Racing Western Region but will be considered a border track, meaning drivers from North Dakota, South Dakota and Saskatchewan can race there for North Central Region points.
Both will also be designated as border tracks.