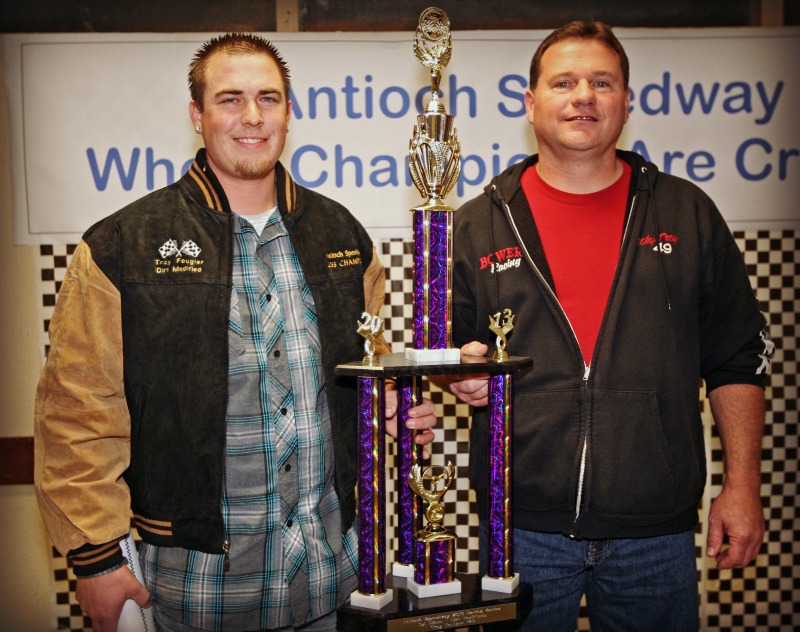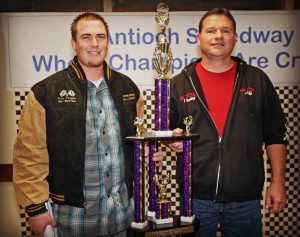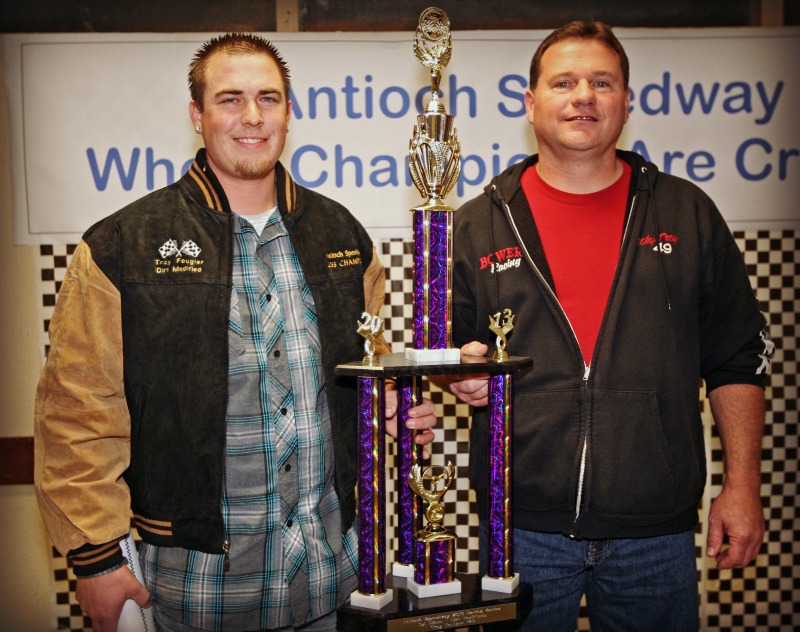 ANTIOCH, Calif. (Nov. 23) – Driver Troy Foulger was honored for an unprecedented fourth straight championship at the 2013 Antioch Speedway awards banquet.
Champions and rookies of the year in the speedway's weekly divisions were applauded at the Contra Costa Fairgrounds on Saturday night (11/23).
Foulger, 22, who drove a car owned by Billy Bowers, scored five wins and 13 top five finishes in the highly competitive IMCA Xtreme Motor Sports Modified division. He heads to Lincoln, Neb., this weekend to be honored by the organization.
Foulger praised the work of Bowers and his crew.
"They worked on the cars every night of the week, all season long," said Foulger. "We sometimes raced both cars, back to back, and it isn't easy to maintain and race two cars. Their dedication to preparation made the difference."
Rookie of the year in the Modified division is David Michael Rosa. He's hoping to end Foulger's streak.
"When I started out in the Modifieds this year, it was my goal to be rookie of the year," said Rosa. "My next goal is to win a championship."
In the Karl Chevrolet Northern SportMod division, champion Jeremy Hoff towed his car from the hills of Copperopoli, just to compete at the delta high-banked 3/8-mile oval.
"I was new at Antioch Speedway and everyone made me feel welcome," he said. "In fact, if it weren't for the Bowers crew, I might not have been champ. They fixed my car in time for the feature after a crash in a qualifying race late in the season."
Hoff held off Megan Ponciano, who finished second in the point battle. Ponciano was named rookie of the year.
Also winning Antioch titles were Gary Nelson Jr. in the Wingless Sprint Cars; Jim Freethy in the Super Stocks; Kimo Oreta in the Hobby Stocks; Jimmy Robbins in the Super Hobby Stocks; Ken Radabaugh in the four-cylinder Four Banger division; and Danny Wagner in the Dwarf Car division.
Antioch Speedway's 2014 season will begin in February. The 2014 schedule will be released next week.