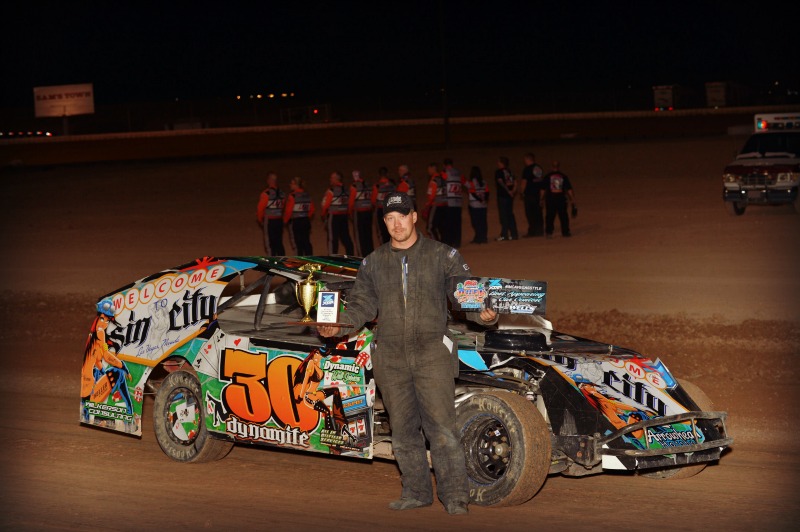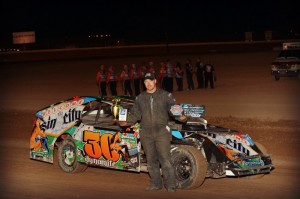 By Ryan Clark
WILLISTON, N.D. – Although he didn't experience much success on the track, Darin Wendt left the Duel In The Desert with some extra green in his pocket.
The third-year IMCA Xtreme Motor Sports Modified driver from Williston, N.D., won Best Appearing Car honors in the Las Vegas-themed contest at the dirt track at Las Vegas Motor Speedway, taking home the $500 top prize in the process. In addition to the cash courtesy of XSAN, Wendt walked away with a trophy and new RACEceiver. Wells Design of Ogallala, Neb., also paid for his 2014 Modified membership license.
Wendt spent just 22 nights behind the wheel of his race car this season prior to his trip to Las Vegas. His work as an oil field consultant limits his time on the track. "I just race when I can," explained Wendt. "I normally work two weeks on and two weeks off." Despite a busy work schedule, Wendt found time to make a number of trips to Williston Basin Speed­way where he earned his lone feature win this season. "The year started out pretty good," Wendt recalled of his May 11 victory at Williston. "After that, we were up in points, so we started in the back and got wrecked quite a few times." Wendt salvaged his season with another pair of top fives and two more top 10s.
"It turned out to be alright," he said of his season, "but it took a while to get back there. I had some pretty tough luck."
In addition to Williston, Wendt competed periodically at Dacotah Speedway in Mandan, Nodak Speed­way in Minot and Estevan, Sask., Motor Speedway. One of the bright spots in Wendt's season was racing with his father Dick, who piloted a Karl Chevro­let Northern SportMod. "He raced 20 shows with me this year. It was pretty fun," said Wendt on racing with his father. "I got dad into the SportMod this year in one of my old cars." The father and son hadn't raced together since they competed in a local two-man road hog division many years ago.
Along with his father, Wendt's crew consisted of Kristin Wendt and his children Decker and Denli. Wendt's sponsors included Heller Casing, All In Oil Field Services, Dynamic Well Services and DKDD Consulting, all of Williston; Hurley Services of Fairview, Mont.; Arrowhead Hot Shot of Dickin­son; and Wilkerson Consulting of Wellington, Colo.
Finishing second in this year's Best Appearing Car voting, which was conducted through XSAN's Face­book page, was Travis Hagen, also of Williston. He pocketed $300 courtesy of XSAN. Bob Moore of Sioux City, Iowa, earned $200 from XSAN for finishing third in the voting. This was the third year the contest featured Las Vegas-themed Modifieds. Jeremy Mills of Garner, Iowa won in 2011 and Mike Petersilie of Hoisington, Kan. was last year's winner.