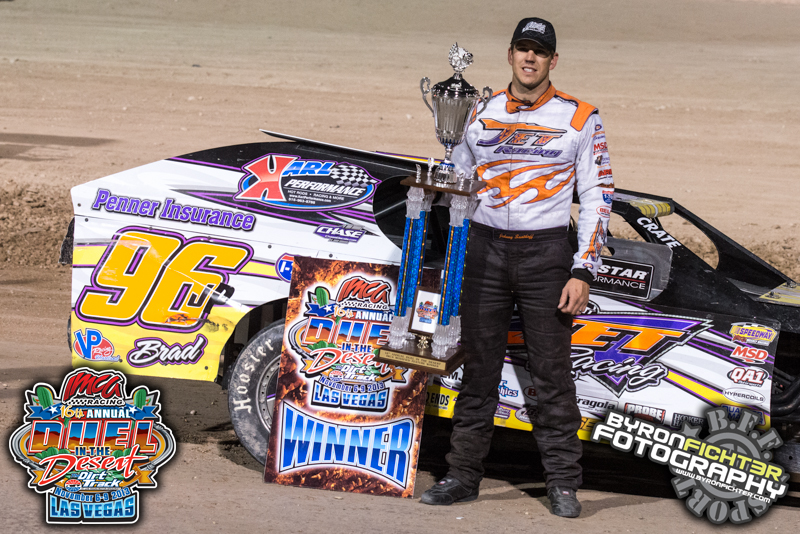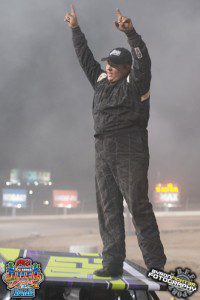 LAS VEGAS, Nev. (Nov. 9) – On a record-setting weekend at Las Vegas Motor Speedway, Jeremy Payne extended his own Duel In The Desert record to four.
Payne won the IMCA Xtreme Motor Sports Modified special at the LVMS half-mile Dirt Track for the fourth time Saturday night in a 40-lapper that ran green to checkered. The $7,777 victory put the Missouri hotshoe on the ballot for the 2014 Fast Shafts All-Star Invitational.
Terry Phillips, Jeff Taylor, Aaron Turnbull and Dominic Ursetta completed the Modified top five. Justin O'Brien started 15th and finished sixth.
Dean Abbey was the $777 IMCA SportMod winner, ahead of Tyler Frye, Chad Dolan, Robert Elliott and Ben Kates.
Total car count for the 16th annual Duel was a record 320. That total includes a best-ever 74 SportMod entries.
Phillips, a two-time Duel winner, started the main event from the pole, flanked by Dominic Ursetta. Phillips jumped out to an early lead as Payne moved past Ursetta for second place.
Payne caught Phillips on lap seven and the battle for the lead commenced as the pair pulled away from the pack. At halfway, Phillips continued to lead with Payne staying within striking distance.
With 10 laps remaining, the leader encountered heavy lapped traffic, allowing Payne to close the gap. Payne made his move in turn two and grabbed the lead. Phillips refused to give up the fight and remained glued to Payne's rear bumper as third running Jeff Taylor was catching up.
Taylor and Phillips both ran out of time, however, as Payne collected the checkered flag.
"That car was awesome. It's an awesome night," said Payne, also winner of the 2005, 2006 and 2012 Duels. "You always want to be pretty close to the leader when he gets into lapped traffic. I could get some runs on him early, then he'd get away. I settled down and found a groove and it was awesome."
Justen Yeager was the EQ Cylinder Heads Wild West Shootout winner. Travis Hagen topped the Young Guns feature for drivers 18 and under; Steve Simpson Jr. was first in the Legends feature for competitors 55 and over.
Abbey drew the pole for the 25-lap SportMod feature, with Dolan to the outside. He checked out on the field and left a four-car battle for second place in his wake.
A caution flag on lap eight bunched up the field but Abbey pulled away again. His romp was thwarted once again by a four-car accident on the back straightaway and resulting red flag on lap nine.
Once back to green, Abbey motored away in the low groove, leaving Frye to try the high groove in second place. With a handful of laps remaining, Frye used the high groove to catch up with Abbey but jumped the cushion in the second turn with two laps left.
The miscue was costly as Abbey got the breathing room he needed.
"This feels great," said Abbey. "We came out here last year with a new car and finished fourth. It feels good to come back out here and win a race.
"I figured he (Frye) was back there and I knew my motor was laying down," Abbey continued. "I was just gonna do the best I could and hold onto it and see what happened."
Jake Krone was disqualified from third in post-race tech.
Phillips and Turnbull won Thursday qualifying features for the Modifieds while Payne and Ursetta paced Friday qualifiers. Frye was the SportMod winner on Friday.
Twenty-one states and three provinces were represented in the Modified entries. SportMods were on hand from 16 states and two provinces.
Darin Wendt, Hagen and Bob Moore won $500, $300 and $200, respectively, in the XSAN Best Appearing Car presented by Wells Design contest for the Modifieds.
Modified feature results – 1. Jeremy Payne, Springfield, Mo.; 2. Terry Phillips, Springfield, Mo.; 3. Jeff Taylor, Cave City, Ark.; 4. Aaron Turnbull, Estevan, Sask.; 5. Dominic Ursetta, Arvada, Colo.; 6. Justin O'Brien, West Union, Iowa; 7. Benji LaCrosse, Green Bay, Wis.; 8. Dylan Smith, Osceola, Neb.; 9. Dustin Boney, Gower, Mo.; 10. Jordan Grabouski, Beatrice, Neb.; 11. Tim Ward, Gilbert, Ariz.; 12. Justen Yeager, Green River, Wyo.; 13. Kyle Rohleder, WaKeeney, Kan.; 14. Zane DeVilbiss, Farmington, N.M.; 15. Cody Gearhart, Turpin, Okla.; 16. Jesse Stovall, Galena, Mo.; 17. Jared Hoefelman, Columbus, Neb.; 18. Jay Marks, Bakersfield, Calif.; 19. Jeremy Frenier, Fort Morgan, Colo.; 20. John Hansen, Brush, Colo.; 21. Will Brack, Mead, Colo.; 22. Jesse Sobbing, Glenwood, Iowa; 23. Paul Stone, Winton, Calif.; 24. Alex Stanford, Chowchilla, Calif.; 25. Scott Drake, Joplin, Mo.; 26. Bobby Hogge IV, Salinas, Calif.; 27. Tommy Fain, Abilene, Texas; 28. Travis Sherfick, WaKeeney, Kan.
SportMod feature results – 1. Dean Abbey, Waco, Texas; 2. Tyler Frye, Belleville, Kan.; 3. Chad Dolan, Gibbon, Neb.; 4. Robert Elliott, Clinton, Okla.; 5. Ben Kates, Tonganoxie, Kan.; 6. Chuck Delp, Rock Springs, Wyo.; 7. John Piker, Bakersfield, Calif.; 8. Shawn Harker, Nebraska City, Neb.; 9. Clay Money, Penokee, Kan.; 10. Kruz Griffith, Bakersfield, Calif.; 11. Ethan Dotson, Bakersfield, Calif.; 12. Trenton Kleweno, Hays, Kan.; 13. Ryan Henley, Aztec, N.M.; 14. John Reid, Loving, N.M.; 15. Danny Roe, Turlock, Calif.; 16. Tony Rost, Utica, Neb.; 17. Matt Mueller, Stamford, Texas; 18. Chad Reichenbach, Bakersfield, Calif.; 19. Wayne Dotson, Bakersfield, Calif.; 20. Jake Krone, Beloit, Kan.
Wild West Tour Shootout – 1. Justen Yeager; 2. Zane DeVilbiss; 3. Wade Taylor, Spring Creek; 4. Bryan Wordelman, Salt Lake City; 5. Chris Clark, Jackson, Wyo.; 6. Shawn Reed, Casper, Wyo.; 7. Richard Anderson, Shelley, Idaho; 8. Bert Beech, Rock Springs, Wyo.; 9. Jake Donnelly, Rigby, Idaho; 10. Casey Delp, Rock Springs, Wyo.
Young Guns feature – 1. Travis Hagen, Williston, N.D.; 2. Mason Daughters, Polo, Mo.; 3. Tom Berry Jr., Medford, Ore.; 4. Wyatt Howard, Price, Utah; 5. Cody Laney, Torrance, Calif.; 6. Eric Hamilton, Hanford, Calif.; 7. Riley Emmel, Estevan, Sask.; 8. Riley Simmons, Susanville, Calif.; 9. Justin Dyke, Jamul, Calif.; 10. Cole Dick, Ramona, Calif.
Legends feature – 1. Steve Simpson Jr., Kingman, Ariz.; 2. Steve Streeter, Madera, Calif.; 3. Kevin Lisafeld, Lampman, Sask.; 4. Bill Brack, Mead, Colo.; 5. Sherman Barnett, El Paso, Texas; 6. Roger Bonneville, Calgary, Alb.; 7. Richard Mueller, Jackson, Wyo.; 8. Terry DeCarlo, Martinez, Calif.; 9. Raymond Keldsen Sr., Aromas, Calif.; 10. Lawrence O'Connor, Port Hardy, B.C.; 11. John Pierce, San Jose, Calif.