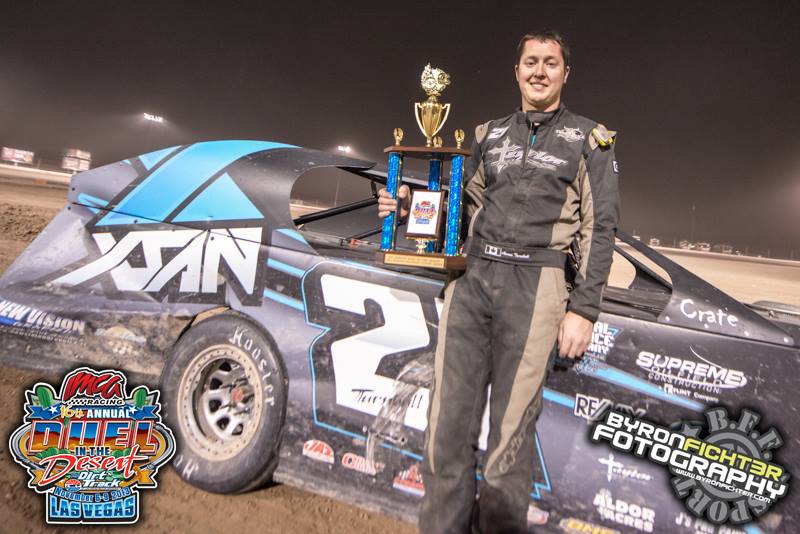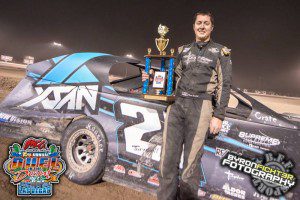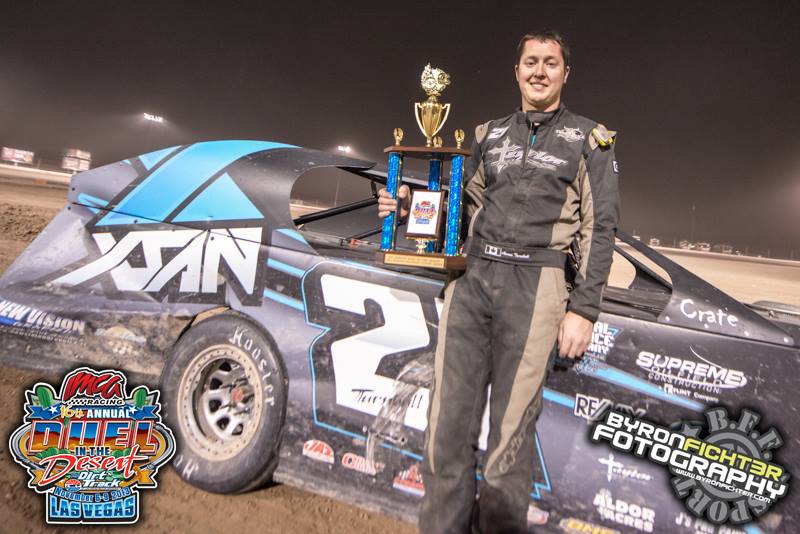 LAS VEGAS, Nev. (Nov. 7) – Terry Phillips and Aaron Turnbull won IMCA Xtreme Motor Sports Modified qualifying features Thursday, on opening night of the Duel In The Desert special at Las Vegas Motor Speedway.
The top four from each race advance to Saturday's $7,777 to win main event on the LVMS Dirt Track.
Winner of the 2010 and 2011 Duels, Phillips led Jeff Taylor, Justen Yeager and Kyle Rohleder across the stripe. Turnbull won ahead of Dylan Smith, Jordan Grabouski and Justin O'Brien.
Two hundred and forty-seven drivers, representing 21 states and three Canadian provinces, vied on opening night of the 16th annual special. Drivers from six different states and one province are already on Saturday's grid.
Both qualifiers paid $777 to win. Two more qualifying features for the Modifieds are on tap Friday, along with the first action for IMCA SportMods.
A dozen Modifieds will be added through last-chance events on Saturday. If not already on the ballot, the Modified winner at Las Vegas will become vote eligible for the 2014 Fast Shafts All-Star Invitational.
The largest IMCA event on the West Coast, the Duel In the Desert has the second largest car count of any Modified event in the nation this season. First on the list is the IMCA Speedway Motors Super Nationals fueled by Casey's.
1st feature – 1. Terry Phillips, Springfield, Mo.; 2. Jeff Taylor, Cave City, Ark.; 3. Justen Yeager, Green River, Wyo.; 4. Kyle Rohleder, WaKeeney, Kan.; 5. Scott Drake Joplin, Mo.; 6. Brandon Blochlinger, Concordia, Kan.; 7. Bob Moore, Sioux City, Iowa; 8. Jared Hoefelman, Columbus, Neb.; 9. Dustin Boney, Gower, Mo.; 10. Jesse Stovall, Galena, Mo.; 11. Jeremy Frenier, Fort Morgan, Colo.; 12. Kyle Brown, Kellogg, Iowa; 13. Tim Ward, Gilbert, Ariz.; 14. Tommy Fain, Abilene, Texas; 15. Mike Mullen, Seymour, Wis.; 16. Travis Hagen, Williston, N.D.; 17. Mike Densberger, Lincoln, Neb.; 18. Jay Marks, Bakersfield, Calif.; 19. Eddie Belec, Arvada, Colo.; 20. Jason Noll, Peoria, Ariz.; 21. Bobby Hogge IV, Salinas, Calif.; 22. Travis Sherfick, WaKeeney, Kan.; 23. Cory Sample, Winnemucca; 24. Troy Heupel, Williston, N.D.; 25. Paul Stone, Winton, Calif.; 26. Mike Wadel, Garden City, Kan.; 27. Clay Daly, Watsonville, Calif.; 28. Riley Emmel, Estevan, Sask.; 29. Ricky Thornton Jr., Chandler, Ariz; 30. Dylan Sherfick, WaKeeney, Kan.
2nd feature – 1. Aaron Turnbull, Estevan, Sask.; 2. Dylan Smith, Osceola, Neb.; 3. Jordan Grabouski, Beatrice, Neb.; 4. Justin O'Brien, West Union, Iowa; 5. Kyle Heckman, Bakersfield, Calif.; 6. Tim Setzer, Archie, Mo.; 7. John Hansen, Brush, Colo.; 8. Cody Gearhart, Turpin, Okla.; 9. Benji LaCrosse, Green Bay, Wis.; 10. Alex Stanford, Chowchilla, Calif.; 11. David Murray Jr., Oberlin, Kan.; 12. Dominic Ursetta, Arvada, Colo.; 13. Mike Van Genderen, Newton, Iowa; 14. Brad Pounds, Bakersfield, Calif.; 15. Brian Foote, Essex, Iowa; 16. Rick Fierro, Cheyenne, Wyo.; 17. Josh Most, Red Oak, Iowa; 18. Kellen Chadwick, Oakley, Calif.; 19. Robert Hellebust, Minot, N.D.; 20. Spencer Wilson, Minot, N.D.; 21. Dustin Andersen, Omaha, Neb.; 22. Ryan Heger, Hugoton, Kan.; 23. Ryan McDaniel, Olivehurst, Calif.; 24. Alan Sharpensteen, Amarillo, Texas; 25. Rob Sanders, Bakersfield, Calif.; 26. Jeremy Mills, Garner, Iowa; 27. Jason Wolla, Ray, N.D.; 28. Hunter Marriott, Brookfield, Mo.; 29. Chad Ayers, Tucson, Ariz.; 30. Jeremy Payne, Springfield, Mo.