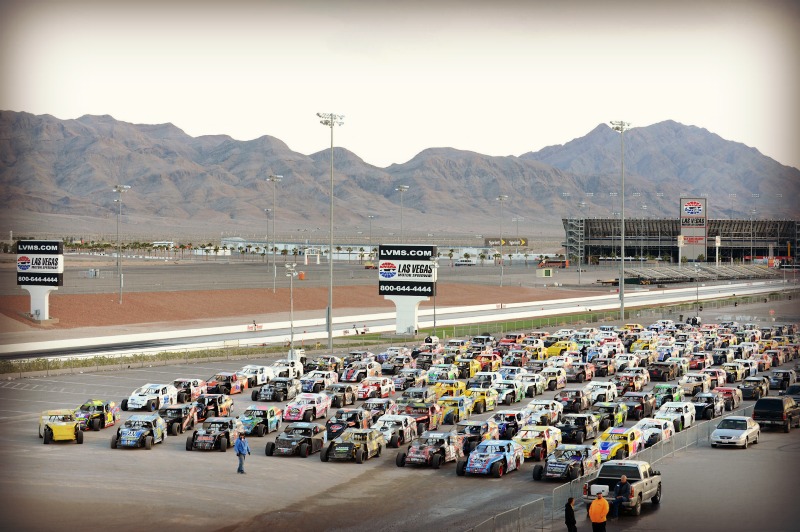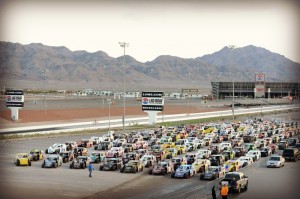 LAS VEGAS, Nev. (Oct. 21) – One hundred and eleven IMCA Xtreme Motor Sports Modified and IMCA SportMod drivers are nowpre-entered for the 16th annual Duel In The Desert special at Las Vegas Motor Speedway Nov. 6-9.
Early entries are in hand from 91 Modified drivers from 20 states and three Canadian provinces. SportMod entries number 20 and were postmarked from 10 states and one province.
Modifieds race for $7,777 to win and a minimum of $777 to start their Saturday, Nov. 9 Fast Shafts All-Star Invitational ballot qualifier. Preliminary features on Thursday and Friday, Nov. 7 and 8 both pay $777 to win.
Both Karl Chevrolet Northern SportMods and Scoggin-Dickey Parts Center Southern SportMods will compete in the same races with the existing rules for each division. Their features pay $500 to win on Friday and $777 to win on Saturday.
Modified entries are six ahead of last year's pace and are now in hand from:
Richard Anderson, Shelley, Idaho; Shawn Anderson, Minot N.D.; Joe Antonetti, Santa Cruz Calif.; Paris Archie, Sparks; Sherman Barnett, El Paso, Texas; Jason Beaulieu, Campbell River, B.C.; Eddie Belec, Lakewood, Colo.; Tom Berry, Medford, Ore.; Brandon Blochlinger, Concordia, Kan.; Steve Boles, Bakersfield, Calif.; Dustin Boney, Gower, Mo.; Roger Bonneville, Calgary, Alb.; Cody Burke, Salinas, Calif.; Bryan Burnes, Lemoore, Calif.; Chris Clark, Jackson, Wyo.; Joe Cleveland, Delphos, Kan.; and Chris Cole, Cache, Okla.;
Mason Daughters, Polo, Mo.; Zane DeVilbiss, Farmington, N.M.; Russ Dickerson, Boone, Iowa; Jake Donnelly, Rigby, Idaho; Scott Drake, Webb City, Mo.; Tommy Fain, Abilene, Texas; Rick Fierro, Cheyenne, Wyo.; Kevin Fitzgerald, Brentwood, Calif.; Brian Foote, Essex, Iowa; Cody Gearhart, Turpin, Okla.; Christy Georges, El Paso, Texas; Albert Gill, Central Point, Ore.; Jordan Grabouski, Beatrice, Neb.; Eric Hamilton, Hanford, Calif.; Kyle Heckman, Bakersfield, Calif.; Ryan Heger, Hugoton, Kan.; Zach Hensley, Green River, Wyo.; Troy Heupel, Williston, N.D.; Jason Hilliard, Cache, Okla.; Bobby Hogge IV, Salinas, Calif.; and Jake Holland of Reno; Paul Jones, Casper, Wyo.; Raymone Keldsen, Aromas, Calif.; Chester Kniss, Antioch, Calif.; Dan Lee, High River, Alb.; Derrick Lisafeld, Lampman, Sask; Kevin Lisafeld, Lampman, Sask.; Hunter Marriott, Brookfield, Mo.; Ryan McDaniel, Olivehurst, Calif.; Troy McElroy, Shady Grove, Ore.; Jeremy Mills, Garner, Iowa; Matt Mitchell, Vancouver, Wash.; Craig Moore, Seabeck, Wash.; Richard Mueller, Jackson Wyo.; Mike Mullen, Suamico, Wis.; David Murray Jr., Oberlin, Kan.; Joel Myers, Santa Rosa, Calif.; Melissa Natenstedt, Fernley; and Shawn Natenstedt, Fernley; Vince Ogle, Lubbock, Texas; Jeremy Payne, Springfield, Mo.; Reed Payne, Idaho Falls, Idaho; Mike Petersilie, Hoisington, Kan.; Terry Phillips, Springfield, Mo.; Justin Radcliff, China Spring, Texas; Jesse Richter, Great Bend, Kan.; Mark Rodgers, Farmington, N.M.; Kyle Rohleder, WaKeeney, Kan.; Brad Rohloff, Suamico, Wis.; Ryan Ruter, Kanawha, Iowa; Johnny Saathoff, Beatrice, Neb.; Dusty Safley, Wellington, Utah; Rob Sanders, Bakersfield, Calif.; Kody Scholpp, Estevan, Sask.; Jay Sears, Reno; Dylan Smith, Osceola, Neb.; Kelly Smith, Roosevelt, Utah; and Jesse Sobbing, Glenwood, Iowa; and Alex Stanford, Chowchilla, Calif.; Jesse Stovall, Galena, Mo.; Mickey Stubbings, Helper, Utah; Regan Tafoya, Farmington, N.M.; Jeff Talley, Las Vegas; Jeff Taylor, Cave City, Ark.; Wade Taylor, Spring Creek; Dominic Ursetta, Arvada, Colo.; Mike Van Genderen, Newton, Iowa; Mike Villanueva, Atwater, Calif.; Mike Wadel, Garden City, Kan.; Tim Ward, Gilbert, Ariz.; Nate Warren, Phoenix, Ariz.; Darin Wendt, Williston, N.D.; Spencer Wilson, Minot, N.D.; and Jason Wolla, Ray, N.D.
SportMod drivers entered now include:
Sean Callens, Brawley, Calif.; Brenden Damon, Great Bend, Kan.; Chad Dolan, Gibbon, Neb.; Ethan Dotson, Bakersfield, Calif.; Wayne Dotson, Bakersfield, Calif.; Juanita Faddis, LaPlata, N.M.; Bill Ferguson, Norwood, Colo.; Merl Fitzpatrick, Brooks, Alb.; Steve Hayes, Abilene, Texas; Ryan Henley, Aztec, N.M.; Jessie Hiskins, Longdale, Okla.; Jerry Hoffman, Oronogo, Mo.; Ben Kates, Tonganoxie, Kan.; Matt Mueller, Abilene, Texas; Blain Petersen, Essex, Iowa; John Reid, Loving, N.M.; Daniel Roe, Turlock, Calif.; Chipita Rowley, Roosevelt, Utah; Gauge Smith, Roosevelt, Utah; and David Theiss, Hockley, Texas.
Twenty SportMod drivers had also pre-entered at this time last October.
Pit parking for pre-registered drivers begins at 9 a.m. Tuesday, Nov. 5 and resumes at 9 a.m. on Wednesday, Nov. 6. Tech inspection will be available and practice for Modifieds and for SportMods runs from 4-9 p.m. Wednesday.
Tech inspection begins at 8 a.m. on Thursday. Racing starts at 5 p.m. Thursday, Friday and Saturday.
Advance entry fee by Oct. 31 is $200 for Modifieds and $100 for SportMods. Weekend pit passes are $95 and ATV/golf cart passes are $30. Pit spots in the first three rows must be reserved; all other pit area parking is free.
More information is available by calling 702 632-8213, by emailing srudder@LVMS.com and at the www.LVMS.com/dirt/racers website.