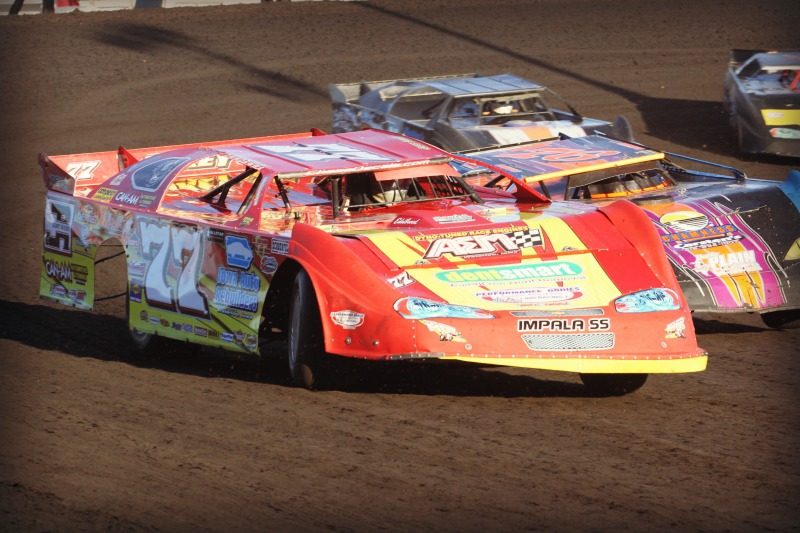 FARLEY, Iowa (Sept. 10) – One IMCA special series continues and another concludes during the up­coming Yankee Dirt Track Classic Weekend at Farley Speedway. Jeff Aikey has won the last two events while Brian Harris leads the Deery Brothers Summer Se­ries standings heading into Friday, Sept. 13 and Saturday, Sept. 14 shows. The opening night IMCA Late Model main event pays $3,000 to win while the Saturday winner earns $7,500.
Friday's 40-lapper pays a minimum of $300 to start. Taking the initial green for the 75-lapper on Saturday is worth at least $500.
Ronn Lauritzen leads Mike Van Genderen by just six points with the final two Karl Performance Hawkeye Dirt Tour presented by XSAN shows remaining. Top prizes for the traveling IMCA Xtreme Motor Sports Modifieds will be $1,500 on Friday and $2,000 on Saturday. Each is a Fast Shafts All-Star Invitational ballot qualifying race and a mini­mum of $175 will be paid to start the 30-lap main events. Bonus points, applied to IMCA Speedway Motors Weekly Racing National and Belleville Motor Sports North Central Region standings, are also at stake.
Both the Late Models and Modifieds will run on the half-mile oval. Saturday features for IMCA Sunoco Stock Cars, IMCA Sunoco Hobby Stocks, Karl Chevrolet Northern SportMods and Mach-1 Sport Compacts will be on the 3/8-mile track.
Pit gates at Farley open at 3:30 p.m. and the grandstand opens at 4:30 p.m. both days. Hot laps are at 6:30 p.m. with racing to follow.
Admission to the grandstand both days is $43 for adults, $38 for seniors and $30 for students. More information about spectator admission and pit passes is available by calling 563 744-3620 and at the www.simmonspromotionsinc.com website.
Final Deery Series races of 2013 are Friday, Sept. 20 at Independence Motor Speedway and Satur­day, Sept. 21 at Davenport Speedway.
Deery Brothers Summer Series top 20 point standings – 1. Brian Harris, Davenport, Iowa, 631; 2. Justin Kay, Wheatland, Iowa, 607; 3. Andy Eckrich, Oxford, Iowa, 591; 4. Jeff Aikey, Ce­dar Falls, Iowa, 567; 5. Joel Callahan, Dubuque, Iowa, 545; 6. Ray Guss Jr., Milan, Ill., 519; 7. Darrel DeFrance, Marshalltown, Iowa, 498; 8. Nate Beuseling, Silvis, Ill., 493; 9. Dan Shelliam, Hazel Green, Wis., 465; 10. Denny Eckrich, Tiffin, Iowa, 432; 11. Rob Moss, Iowa City, Iowa, 431; 12. Colby Springsteen, Wapello, Iowa, 368; 13. Jeremiah Hurst, Dubuque, Iowa, 349; 14. Jason Utter, Columbus Junction, Iowa, 330; 15. Tyler Bruening, Decorah, Iowa, 310; 16. Spencer Diercks, Davenport, Iowa, 297; 17. Nick Marolf, Moscow, Iowa, 288; 18. Ron Klein, Sherrill, Iowa, 237; 19. Ron Boyse, Kalona, Iowa, 229; 20. Tom Goble, Burlington, Iowa, 225.
Karl Performance Hawkeye Dirt Tour top 20 point standings – 1. Ronn Lauritzen, Jesup, Iowa, 262; 2. Mike Van Genderen, Newton, Iowa, 256; 3. Mark Elliott, Webster City, Iowa, 233; 4. Mark Schulte, Delhi, Iowa, 231; 5. Richie Gustin Jr., Gilman, Iowa, 228; 6. Scott Hogan, Vinton, Iowa, 195; 7. Jimmy Gustin, Marshalltown, Iowa, 187; 8. Cayden Carter, Oskaloosa, Iowa, 173; 9. Jeff Waterman, Quincy, Ill., 169; 10. Zach Less, Hopkinton, Iowa, 161; 11. Kyle Brown, Kellogg, Iowa, 148; 12. Joel Bushore, Boone, Iowa, 108; 13. Todd Shute, Des Moines, Iowa, 103; 14. Mike Jergens, Plover, Iowa, 96; 15. Colt Mather, Webster, Iowa, 86; 16. Jacob Murray, Hartford, Iowa, 82; 17. Darin Duffy, Urbana, Iowa, 80; 18. Ryan Ruter, Kanawha, Iowa, 78; 19. Steve Stewart, Burlington, Iowa, 76; 20. Jeremy Mills, Garner, Iowa, 75.