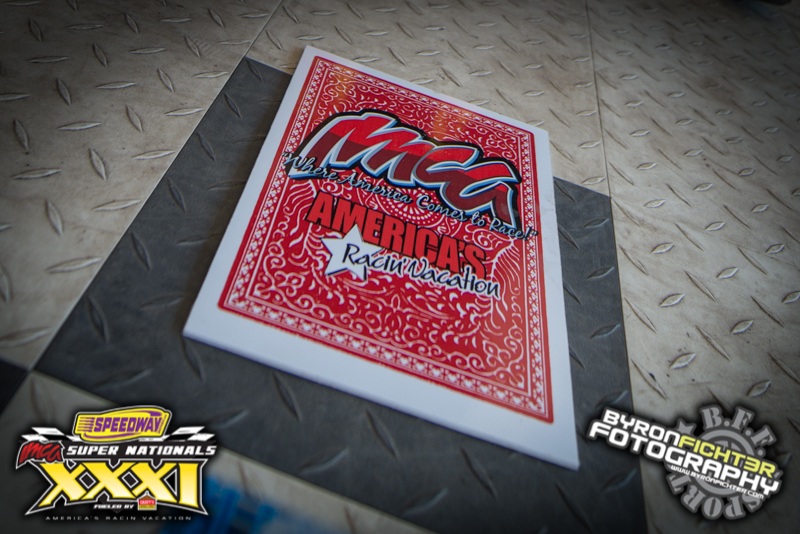 *
Super Nationals is legendary for bringing drivers from across the country and Canada to Boone. The diversity of addresses was best seen Wednesday in the 28th Modified heat where the eight starters represented seven states and our neighbors to the north.
That heat included Terry Johnson of Iowa, Mike Petersilie of Kansas, Andrew Timm of Minnesota, Jason Wolla of North Dakota, Kody Scholpp of Saskatchewan, Steve Reynolds of South Dakota, Kyle Kudick of Wisconsin and Richard Mueller of Wyoming.
Seven different states are represented in two of the 30 Thursday night heats, the ninth and 18th.
*
A dozen Modifieds will start tonight's inaugural Karl Crate Clash. The winner goes home with a 604 crate engine, valued at $5,500, courtesy of Chevrolet Performance and Karl Performance. Names of the drivers starting the race were drawn from 121 entries this afternoon, with starting spots determined later in front of an SRO crowd at the Fan Zone.
Brian Schmitt and Chevy Hadan drew front row starts. Ricky Stephan and Mike Petersilie are in the second row, Jake Durbin and Scott Hogan in the third row, Greg Cox and Kelly Lyons in the fourth row, Dan Rhiley and Jim Lynch in the fifth row and Shawn Kilgore and Gary Roberts in the sixth row.
The last-place driver will be blackflagged on each of the first 10 circuits. The race will then be restarted with the leader getting his choice of starting position for a two lap dash.
Dividing the value of the engine by the number of laps, the Karl Crate Clash is worth $458 and change evert time around the track to the winner.
*
Two former winners are in the field for the 2013 Harris Auto Racing Race of Champions.
Jimmy Gustin (2007 and 2012) and Clint Hatlestad (2010) won Thursday qualifying heats, as did Dylan Smith, Jesse Sobbing, Dustin Smith and Corey Lagroon.
Runners-up Tim Ward, Ryan McDaniel, Richie Gustin, Brandon Beckendorf, Chris Abelson and Aaron Turnbull also advance to Saturday's $1,000 to win feature.
Jimmy Gustin made the RoC for the fifth time, Lagroon for the third, Dylan Smith, Richie Gustin and Hatlestad each for the second. Ward, Sobbing, Beckendorf, Dustin Smith, Abelson, McDaniel and Turnbull each for the first.
Turnbull also owns the distinction of being the first Canadian driver to qualify for the Harris Race of Champions, a Super Nationals staple since 1989.
Twelve cars ran in each of six heats.
*