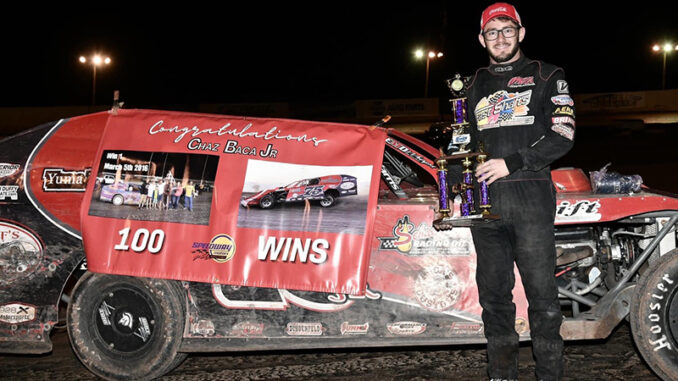 MESA, Ariz. (May 26-27, 2023) – Chaz Baca had to think for a moment before recalling the results of his first racing visits to Show Low.
His latest proved much more memorable.
Baca won for the 100th time in his Friesen Performance IMCA Modified career during the opening night show Friday at Deuce of Clubs Thunder Raceway, then completed his Weekend of Remembrance sweep with win number 101 on Saturday.
"It was definitely a good weekend, for sure," Baca said, following wins 13 and 14 on the season and during the three-hour trip home to Mesa. "It's always fun to be able to go to your home tracks and win, and it's always satisfying to be able to go to a new track, or someplace you haven't been to in a while, and do it."
"I think I'd been to Show Low like twice in a mod lite in 2012," he continued. "It was special to go back for the re-opening with tons of fans there, and it was awesome to race from 12th to get my 100th win. That was cool."
A two-division star and also the IMCA Sunoco Stock Car winner on Friday, he checked out on the rest of the field after starting Saturday's Modified main from outside the front row.
Baca got his first IMCA Modified win in 2016 – his father had the photo from that night incorporated in the celebratory banner made for the occasion – and has been building onto an impressive list of accomplishments since.
Champion of the Shaw Race Cars Western Region in 2020 and 2021, he was also a 10-time track champ and five-time Arizona State king before becoming the 67th driver in division history to reach the 100-win mark.
"It's hard to compare accomplishments. It took me about 10 years to get 100 Modified wins," Baca said. "I've won some big specials over that time and I'm still very proud to have won two regional championships. You have to go against so many good drivers to do that."
He'll go up against all the rest of the drivers in the division to accomplish the next on his to-do list.
"We are shooting for 25 feature wins and hopefully we can wrap up a national championship for Arizona," Baca said. "That's the goal for this year."
The current national points leader had something else to celebrate after the Show Low sweep: His 26th birthday, on Memorial Day.