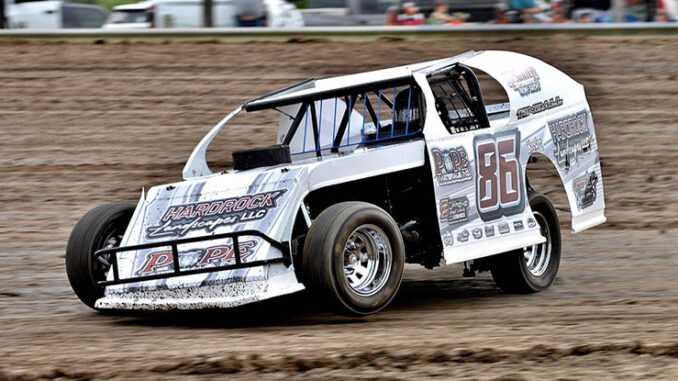 By JM Hallas 
PLEASANTON, Texas (April 22, 2023) In my best Michael Buffer voice, "Let's get ready to rummmblllllllllllle."
It was a big Saturday night at I-37 Speedway as the weekend kicked off the first of four $1,000 to win mini-series races for the Friesen Performance IMCA Modifieds, sponsored by Sundowner Performance Diesel.
The Fast Shafts Invitational qualifier got off to a shaky start. The first try saw Chris Morris get out, trailed by Ryan Doyon, Tanner Whitmire, Logan Dinsmore and Cameron Starry. Dinsmore looped it in turns 3-4 with Matt Banker trying to dodge him and making contact with Darrell Boyd.
On the next try, Whitmire got second from Doyon, but Boyd would go around for another caution. Finally under green again Whitmire got past Doyon and had a run on Morris for the lead. Dillon Tindall was next to try to put Doyon back a spot and got a look on Whitmire for second on lap three.
Dinsmore was working his way back up, taking fifth from Starry on lap five. Up front, Morris way increasing his advantage with Tindall finally securing third and Dinsmore trying to follow.
Dinsmore began to challenge Tindall for third when Steven Boubel had trouble in turns 3-4 for a lap 15 caution. As Morris got away on green, Tindall got by Whitmire for second, leaving him side-by-side with Dinsmore. This gave Doyon and Starry a chance to join that battle with Starry getting by Doyon and L. Dinsmore.
Morris had built a comfortable lead again when Boubel had another spin in turn four with three to go. Tindall hung with Morris on the restart and used a mistake by Morris to grab the lead coming to the white flag. Tindall was able to hold Morris off to take the win.
"Chris (Morris) just bobbled there at the end," exclaimed Tindall. "He shoved the nose and I capitalized on it. I got under him and led the last lap, the one that counted."
"Up in (turns) 1-2 the track had a pretty good cushion. (Turns) 3-4 were totally different," he added. "Cameron Starry, Logan Dinsmore and I had a good battle there coming to the end. Then the caution came out and I got by Tanner (Whitmire) on the restart. Then I just lucked out with Chris.
"We ran here a couple times last season and didn't do too hot. I came back and got it tonight. We just put the same kind of set up we've run in the past," said Tindall. "There's always a possibility of going up to the All-Star invitational. I've wanted to go up there and race. I hear it's a big party. I've never been to the IMCA Speedway Motors Super Nationals fueled by Casey's, it would be an experience for sure."