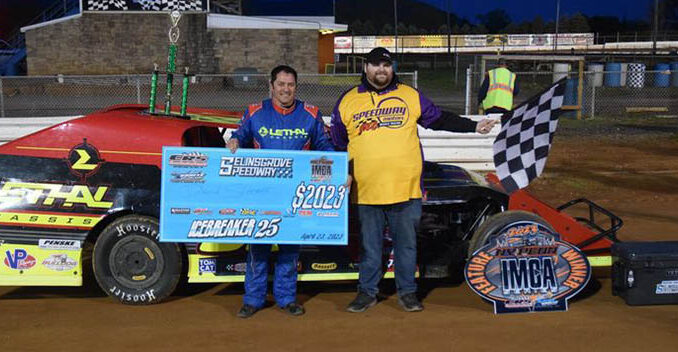 By Paul Szmal
SELINSGROVE, Pa. (April 23, 2023) – David Stremme broke the ice on the 2023 Close Racing Supply NY-Penn IMCA Modified Series presented by M.R. Grafix with the feature win Sunday at Selinsgrove Speedway.
The checkers at the Icebreaker 25-branded Friesen Performance IMCA Modified tour opener, the first-ever series event at Selinsgrove, were good for $2,023 and Stremme earned Fast Shafts All-Star Invitational qualifying eligibility as well.
Eddie Sites and defending tour champion Rodney Morgan brought the field to the green for the main event, and after Lance Conley spun on the front stretch on the first start attempt with a broken tie rod and Jacob McConnell broke a rear end under the ensuing caution, racing resumed with Sites grabbing the lead.
Stremme and Rich Michael quickly moved into second and third. Stremme closed in on Sites and passed him to take the lead on lap two. Stremme pulled out to a several car length lead as Keith Jack Lamphere battled Morgan for fourth, taking the spot on lap four.
Michael moved inside Sites in turn on lap six to take second as Stremme extended his lead to better than three seconds. Ben Sites started to close on Morgan to battle for fourth on lap 10 as Michael tried to close the gap on the leader.
Stremme was in lapped traffic by the halfway point, picking his way past cars at the back of the field while Michael gave chase.
The yellow flew on lap 16 when Matt Benjamin spun and nosed into the wall between turns three and four. Lamphere dropped out with a mechanical issue under the caution while running in the top five.
On the restart, Stremme again pulled out to a lead while Eddie Sites tried to fend off Ben Sites for third.
At the checkers, Stremme had a full straightaway on Michael to take the win, with Eddie Sites, Ben Sites, and Morgan rounding out the top five.
Race two of the series will be Saturday, May 13 at Afton, N.Y., Motorsports Park.