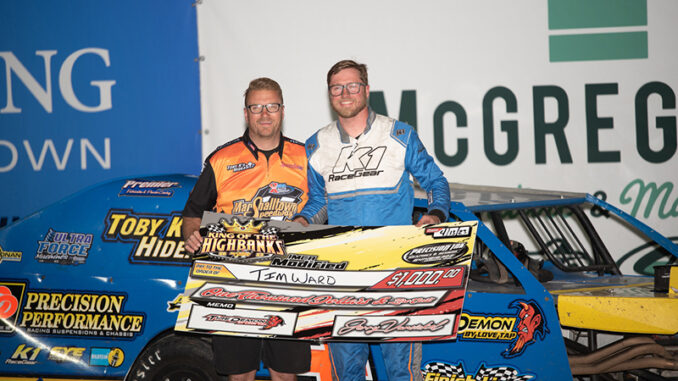 By Joyce Eisele 
MARSHALLTOWN, Iowa (April 13, 2023) – Night number one of the $5,000 to win King of the Highbanks for IMCA Sunoco Stock Cars at Marshalltown Speedway is finally in the books, after five years of trying.
Weather outs and the pandemic had not allowed even one night of the two-day show to be run but Thursday night, it happened! Ten Stock Car drivers locked themselves in for their big 50-lap feature Friday night while Friesen Performance IMCA Modifieds, IMCA Sunoco Hobby Stocks and Friesen Performance IMCA Northern SportMods each ran a full show.
The Northern SportMods ran 20 laps for their feature event, with a $500 payday.
Tony Olson took command of the race on lap four, quickly moving to the top spot after starting ninth. Logan Anderson and Brayton Carter gave Olson a few challenges but to no avail. Olson sailed home to the checkers and the win, his career 150th in the division.
Anderson took the runner-up spot after starting 11th and Carter came from 10th starting to take third. Fourth went to Sam Wieben and Jenae Gustin rounded out the top five.
The Modifieds were running for $1,000 in their Fast Shafts All-Star Invitational qualifier.
Last week's Frostbuster winner Tim Ward started third and had the lead after passing Dylan Thornton on lap two. He never looked back from there as he took home his second win in two weeks at the speedway.
Early leader Thornton took second over fifth place starter Jake McBirnie. Todd Shute finished fourth and Zack VanderBeek, piloting the Maguire DeJong hotrod, was fifth.
The Hobby Stocks ran a 20-lap feature that paid $500 to win.
Luke Ramsey was the early leader but he soon had company. Eric Stanton started sixth and was knocking on the door quickly, taking over the lead at lap seven. Calvin Dhondt, meanwhile, had thrown his hat into the ring and was challenging along with Eric Knutson.
Knutson grabbed the lead on lap 10 and then it was a thrilling three-way battle of Knutson, Stanton and Dhondt.
Dhondt took to the top of the track and was able to make the momentum up top work on lap 16. He then held that top spot the rest of the way home and scored his second win at the track in as many weeks as well.
Knutson finished as the runner-up with Ramsey getting by Stanton in the closing laps as they went third and fourth, respectively. Solomon Bennett rounded out the top five.
The headliner IMCA Sunoco Stock Cars, 57 in all, ran six heats, and then six inverted start heats, scoring passing points.
The top ten in passing points are locked into Friday's 50-lap King of the Highbanks feature. Those 10 drivers are Dallon Murty, Jim Horejsi, Troy Jerovetz, Tyler Wilson, Dylan Thornton, Damon Murty, Jeffrey Abbey, Buck Schafroth, Tom Berry Jr. and Jeff Mueller.
Friday is night number two of King of the Highbanks for the IMCA Stocks, and full shows for the IMCA Modifieds, Northern SportMods, Hobby Stocks and Mach-1 IMCA Sport Compacts, and the Karl Chevrolet Dirt Trucks will also be running. Hot laps are at 6:55 p.m. with racing at 7:30 p.m.