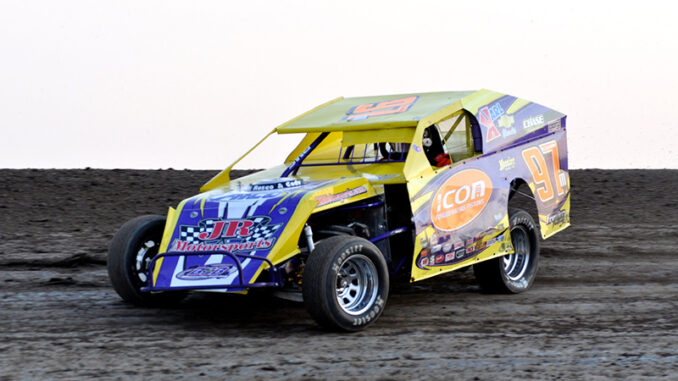 LINCOLN, Neb. (March 27, 2023) – The winningest driver in Friesen Performance IMCA Modified history can add Hall of Famer to his resume.
David Murray Jr. is one of six members of the Nebraska Auto Racing Hall of Fame induction class of 2023. In addition, the hall of fame board has announced this year's Gordie Shuck Memorial Lifetime Achievement Award will be presented to a long-time racing family, the Lincoln Family of US 30 Speedway in Columbus.
The Lincolns have been a staple in the racing community for many decades promoting racetracks, setting the standard of racing safety and lending a helping hand to other racing facilities, helping them to be successful.
A Nebraska native, Murray's career began at Platte Valley Speedway in Lexington racing a street stock. He began his IMCA Modified career after moving to Kansas in 1989.
Murray became the winningest driver in division history with 557 career feature victories. He was national champion in 2001, 2003, 2004 and 2005, earning nine regional crowns along with 25 track and two special series titles.
During his nearly four-decade career, Murray won numerous crown jewel events and is one of just a handful of drivers to win prestigious IMCA Speedway Motors Super Nationals fueled by Casey's, Race of Champions and Fast Shafts All-Star Invitational titles.
He is also a former winner of events including Beatrice Spring Nationals and October Fest, Fall Nationals at RPM Speedway, the Sherman County Speedway Flatlander and the Duel in the Desert.
This year's class of inductees also includes racing journalist Lee Ackerman of Omaha, the Omaha-based Cavalieri drag racing family, professional dirt late model crew chief Kent Fegter of Grand Island, long-time race track promotor Robert Haase of Norfolk and dirt late model car owner Rick Hunnicutt of Giltner.
The Nebraska Auto Racing Hall of Fame inducted its first class in 1998 and since that time has enshrined over 150 members of the Nebraska racing community.
Purpose of the organization is to perpetuate the memory of individuals who have brought lasting fame and positive recognition to the State of Nebraska through their achievements in the sport of auto racing.