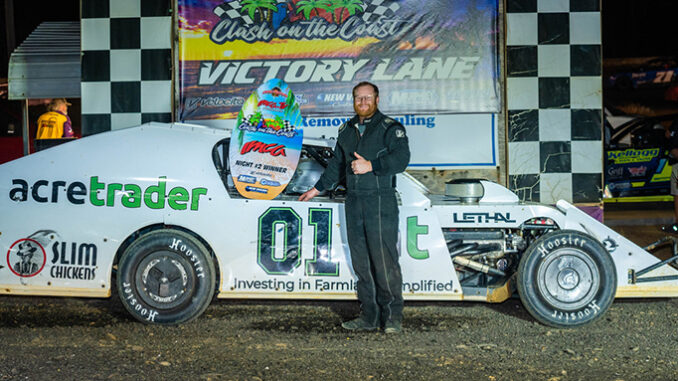 BAKER, Fla. (Feb. 28, 2023) – The top storyline from night two of the Clash on the Coast presented by IMCA.TV was Joseph Joiner's drive from the worst starting spot in his heat to the best finishing position in the Tuesday main event at Northwest Florida Speedway.
The Hunt the Front hotshoe from Milton led flag to flag in winning the fast-paced and caution-free Friesen Performance IMCA Modified feature at Baker, working his way through lapped traffic and outrunning opening night winner Austen Becerra to the $1,000, Fast Shafts All-Star Invitational qualifying eligible checkers.
"I knew we had a good shot when I knew I was on pole," said Joiner, who'd run third in his first start in the car and the class on Monday at Baker. "I grew up racing here and track conditions were a lot like what I'm used to."
"I'm glad I was able to capitalize on it. It turned out to be a good couple days," he continued. "I'm thankful I was the guy who got to hold the steering wheel."
More than 100 drivers had inquired about driving the Andrews Autosport Acre Trader/Slim Chickens Lethal Chassis usually piloted by tour promoter Peyton Taylor and Late Model ace Joiner was picked to run at Baker.
Joiner had raced from ninth in winning his heat race and made like a rocket from the start of the 25-lap feature, leading second running Jesse Enterkin by more than four seconds at halfway.
Becerra, again making his way up from ninth starting, took over the runner-up spot the next time around.
He'd make up most of the distance as Joiner encountered and then worked through lapped traffic, finishing just a quarter of a second off the pace at the finish.
Ethan Braaksma, Enterkin and Jeff Taylor completed the top five. Eight states were represented in the main event field, with a total of 58 IMCA entries on the night.
"I knew we were going to catch lapped traffic and that if I saw somebody I'd really have to hustle. I'm glad we had a lead when we got to traffic," Joiner said, following a feature that took less than seven minutes to complete. "I was blessed to be a part of this. It's been a blast."
Ryan Gillmore takes over the Andrews Autosport ride for Clash on the Coast outings Friday, March 3 and Saturday, March 4 at Southern Raceway. Both features pay $1,000 to win and will be broadcast by IMCA.TV.
Feature results – 1. Joseph Joiner; 2. Austen Becerra; 3. Ethan Braaksma; 4. Jesse Enterkin; 5. Jeff Taylor; 6. Drew Janssen; 7. Dallon Murty; 8. Brint Hartwick; 9. Spencer Hartwick; 10. Collin Thirlby; 11. Ashton Wilkey; 12. Dennis Schoenfeld; 13. Travis Denning; 14. Ryan Jenkins; 15. Terry Hurt; 16. Chase Rosebrugh; 17. Jonathan Joiner; 18. Drew Charlson; 19. Jacob Campbell; 20. Jeremy Russell; 21. Casey Findley; 22. Drake Findley; 23. Jason Barnhill; 24. A.J. Ward.