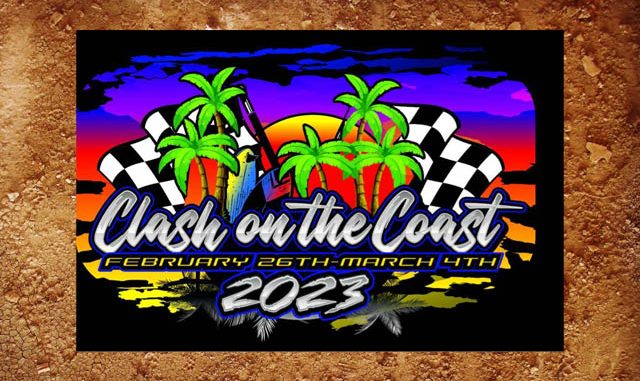 BAKER, Fla. (Feb. 23, 2023) – All the nervous energy that promoter Peyton Taylor brought with him to Florida ahead of the inaugural Clash on the Coast presented by IMCA.TV has been transformed.
Now it's energy.
"The response has been mind-blowing," Taylor said, not much more than hours ahead of the tour for Friesen Performance IMCA Modifieds, at NW Florida Speedway in Baker Feb. 27 and 28 and at Southern Raceway in Milton on March 3 and 4. "We have turned four races into an event, and that would not have been possible without a lot of great IMCA racers and a lot of great IMCA partners."
More than 50 early entries are in hand, among them former and defending regional champions, former regional rookies of the year and IMCA Speedway Motors Super Nationals fueled by Casey's champions.
Local drivers will greet a strong contingent from Taylor's home state of Arkansas and another 10 states, racing for $1,000 to win, a minimum of $100 to start and Fast Shafts All-Star Invitational qualifying eligibility each night.
Purses each evening total $7,500 and contingency awards will accompany nightly payouts. IMCA sponsors already signed up to give contingencies include All-Star Performance, Dynamic Drivelines, Fast Shafts, Friesen Performance, Performance Bodies, QA1, Schoenfeld Headers, Shaw Race Cars, Velocita, Wehr's Machine and Racing Products and Wilwood.
Drivers competing all four nights of the Clash on the Coast are eligible for shares of a $10,000 point fund. The top driver in points earns $2,500 with $1,500 for second and $1,000 for third.
"I want to run fast shows. Drivers' meetings will be at 4:30 p.m., we will start racing at 6 p.m. and be done by 9 or no later than 9:30 p.m. every night," promised Taylor. "We want drivers and their families to have time to enjoy Florida and not have to be at the track seven or eight hours every night."
"The forecast looks great all week," he added, reminding Clash drivers and family members to remember their swimsuits and flip flops. "This is going to be something special."
Practice nights will be Sunday, Feb. 26 at Baker and Thursday, March 2 at Milton, with drivers getting a day off to enjoy Florida with the family on Wednesday, March 1.
Industry icon Larry Shaw and long-time promoter Tracey Clay will serve as grand marshals at the first two Clash on the Coast events.
"When we talked about picking grand marshals, I wanted to have people who were influential in motorsports and in my life also. I felt it was the right move having Larry and Tracey the first two nights," Taylor said.
IMCA Speedway Motors Weekly Racing National, Eastern Region and Florida State points, as well as series points will be awarded. IMCA.TV broadcasts each race program.
Information about the Clash on the Coast available is from Taylor at 870 805-0727.
Drivers now pre-entered include:
Lance Arneson, Abrams, Wis.
Jesse Barnhill, Milton
William Barnhill, Milton
Jason Barnhill, Milton
Rick Barregarye, Wetumpka, Ala.
Austen Becerra, Carthage, Ill.
Ethan Braaksma, Newton, Iowa
Jacob Campbell, Hackett, Ark.
Drew Charlson, New Bremen, Ohio
Matt Chavers, Pace
Travis Denning, Sterling, Ill.
Jimmy Dunaway, Panama City
Casey Findley, Bryant, Ark.
Drake Findley, Bryant, Ark.
Brian Ray Flowers, Hobbs, N.M.
Ryan Fowler, Pace
Jadin Fuller, Memphis, Mo.
Josh Goodwin, Molino
Steve Gustaf, Milan, Ill.
Brint Hartwick, Rose Bud, Ark.
Spencer Hartwick, Rose Bud, Ark.
Jeremie Hedrick, Clintonville, Wis.
Ryan Heskett, Muskegon, Mich.
Greg Hopkins, Repton, Ala.
Terry Hurt, Fort Calhoun, Neb.
Ryan Jenkins, Blair, Neb.
Dale Kaake, Cass City, Mich.
Robin Lashley, Buffalo, Ohio
Pappie Leonard, Ravenden, Ark.
Jason Lockwood, Milton
Braison Maness, Monroeville, Ala.
Cayden Mitchell, Kennett, Mo.
Dallon Murty, Chelsea, Iowa
Todd Neiheiser, Panama City
Chad Phillips, Cabot, Ark.
Bill Roberts, Burlington, Iowa
Chase Rosebrugh, West Branch, Mich.
Chris Rutherford, Niceville
Chuck Sanders, Little Rock, Ark.
Troy Schaberg, Amity, Ark.
Dennis Schoenfeld, Van Buren, Ark.
Eddie Sites, Monroeton, Pa.
Preston Sones, Milton
Tyler Stevens, Searcy, Ark.
Jeff Taylor, Batesville, Ark.
Collin Thirlby, Grawn, Mich.
Derek Thompson, Monroe, Wis.
Michael Thorpe, Pensacola
Christopher Touchton, Milton
A.J. Ward, Ionia, Mich.
Kelby Wright, Weiner, Ark.