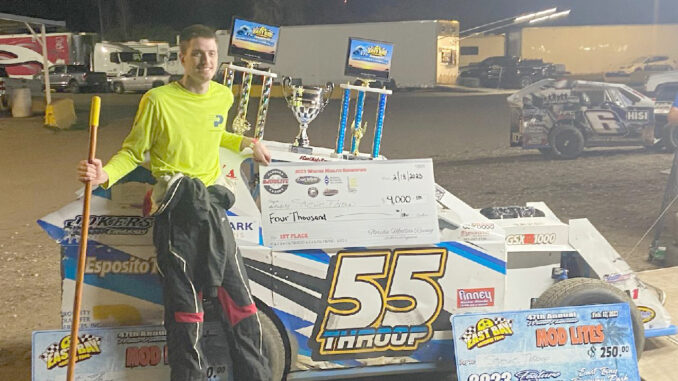 TAMPA, Fla. (Feb. 18) – After Thursday and Friday night IMCA STARS Lite feature wins at East Bay Raceway Park, Stevie Throop knew he was fast.
After completing his weekend sweep at Tampa Bay with Saturday's $4,000 Winter Showdown checkers, everybody else knew it, too.
"After the first two nights I knew I would have a good shot in the main," said Throop, from West Palm Beach. "I was starting from the pole and felt pretty good about it. I knew I just had to get out there and run my race."
Throop had topped $300 to win and $400 to win features, respectively, from the pole on Thursday and from eighth starting on Friday, then set the stage for Saturday's main event with the dash victory.
"We rolled with the same setup as the Sugar Bowl (the previous weekend) and didn't change anything on the car after opening night," said Throop, who led the IMCA STARS Mod Lite 25-lap big show from start to finish after a caution erased Joe Isabell's pass for the front spot. "At first I tried to drive through the middle and then saw the six car (Isabell) before the yellow. I was able to find the preferred groove before everyone else, then rode the inside line from that point to the checkers."
Throop pulled away late and had a lapped car between his back bumper and runner-up Isabell at the finish.
Jimmy Wills advanced 10 spots to third. Floridians Larry Hubbard Jr. and Austin Martin rounded out the top five and hard charger Alex Cline was a plus 12 spots on the night to eighth.
Throop had made just a couple prior starts at the Tampa oval and got his one previous IMCA STARS Mod Lite win there last August. 
"We thought we'd be good here. We just never thought we'd be that good," admitted Throop, who will run full-time at Hendry County Motorsports Park and make occasional four-hour tows to East Bay during his first full season with the sanctioned Mod Lites.
IMCA STARS Mod Lite Feature results – 1. Stevie Throop; 2. Joe Isabell; 3. Jimmy Wills; 4. Larry Hubbard Jr.; 5. Austin Martin; 6. Kyle Demo; 7. Justin Williams; 8. Alex Cline; 9. Logan Lewis; 10. John Pitts; 11. Bo Bass; 12. Jason Masengarb; 13. Darrick Hubbard; 14. Teddy Williams II; 15. Drew Hannay; 16. Jeff Bonnema; 17. Corey Lowe; 18. Nathan Wolfe; 19. Ben George; 20. Jeffrey Teeters; 21. Randy Bryan; 22. Robbie Smith.