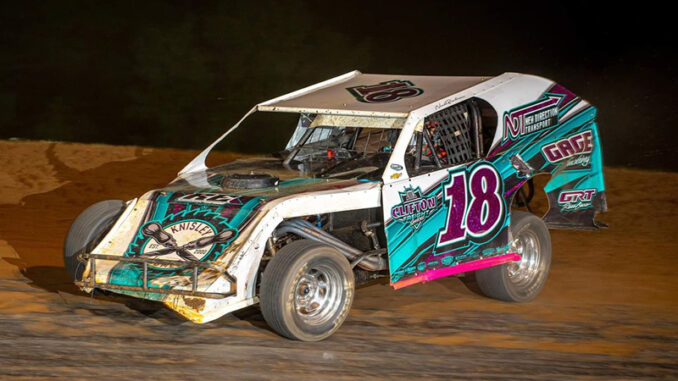 MALVERN, Ark. (Nov. 28, 2022) – Race fans around Arkansas and the drivers he competed against weren't surprised to hear that Noah Burlison earned Jet Racing Central Region rookie of the year honors this season.
It was Burlison himself who had to look twice when he saw his name in the press release from IMCA announcing the fact.
"We just wanted to get a lot of laps under our belt and not tear up too much equipment," said Burlison, from Malvern and the first Friesen Performance IMCA Modified driver from Arkansas to win the regional rookie title since 1998. "It never crossed my mind that we could win the rookie award. There was shock, surprise and awe, all of that."
"There's a ton of good competition around here and seat time is important, but what helps a ton is when you've got to generations of the best drivers around helping you," added Burlison, who benefitted from both the pit crew help and wisdom shared by uncle Charlie Armstrong and cousin Drew Armstrong. "There's probably 40-50 years of Modified experience right there. They can watch me on the track and know what I'm going to ask before I even get out of the car."
Burlison piloted a 2017 GRT and made a dozen of his home region starts at favorite track I-30 Speedway. He had 10 top five finishes at four different Arkansas speed plants before venturing north for outings at Marshalltown Speedway's Showdown at Motown and Boone Speedway's Prelude.
"That had to be one of our highlights of the season. We improved nine spots from where we started at Marshalltown," Burlison said, "and while we didn't qualify at the Prelude, we ran second in our heat and made it into a qualifying feature on the first night at Super Nationals."
He was fifth in Kennedale Speedway Park's Showdown special in October, making that Texas trip with race winner Drake Findley.
All of two weeks old when he went to the track the first time, when uncle Charlie was racing, Burlison started his career at the age of five in go karts. He ran mini sprints before getting into a Modified, making a handful of IMCA starts last year.
"What I like best about the IMCA Modified division is that it's a driver's class, not a money class," he said. "It comes down to who's driving and whose done their homework, and it's affordable."
Wins, 0 – Top Fives, 10 – Starts, 22
His Crew: Father David, brother Maverick, uncle Whit Knisley, uncle Charlies Armstrong, cousin Drew Armstrong, Jeremy Middleton and Mike Davis.
His Sponsors: Gage Trucking and J.M. Bozeman, both of Malvern; Clifton Freight Service, New Direction Transport and Knisley Homes, all of Little Rock; GRT Race Cars of Greenbrier; Mo Bag Suspension of Gladwater, Texas; Swindell Speed Lab of Mooresville, N.C.; and Winning Edge Carburetion, Garden Grove, Calif.