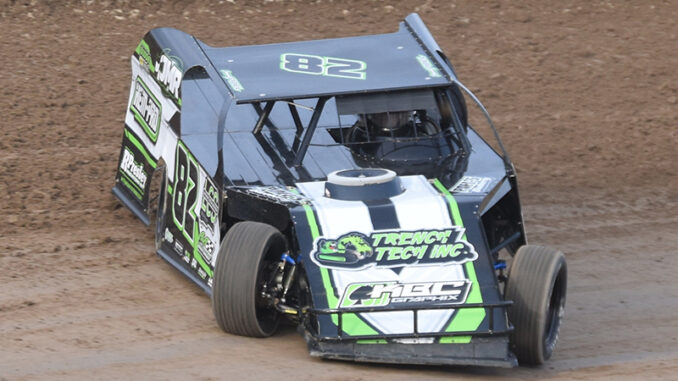 NUNICA, Mich. (Nov. 28, 2022) – Jacob Poel turned his first laps in a race car at Thunderbird Raceway nearly 20 years ago. 
He raced to his first Friesen Performance IMCA Modified feature win at the Muskegon oval this spring and collected five checkers in all in earning Dirt Works Eastern Region rookie of the year honors.
"Last year I said, 'Let's get an IMCA Modified and a couple crate engines and race closer to home,'" stated Poel, from Nunica. "I've thoroughly enjoyed the challenge and acclimated well to the division. I feel as if I have earned the respect of the other drivers and they've earned mine."
He'd win three times at Thunderbird and twice at Winston Speedway, counting nine runner-up showings among 25 top five finishes on the year.
"I really like Thunderbird. I grew up racing there and that's where the first laps I ever drove were at," Poel said. "I can go out my driveway and be there in 22 minutes. Thunderbird is my favorite Michigan track. Racing and winning there kind of brought me back to my roots."
Poel had gotten his start racing go karts on asphalt at the age of 15. His father Steve asked if he'd like to race a full-bodied car so they traded a pro stock they'd built for his first street stock.
"I was all but terrible at it," said Poel, adding that he was the reason behind one- and two-spin rules at Thunderbird and Winston. "People would ridicule me constantly about it but I knew once I figured out how to hook up the power they would be in trouble"
His first Modified was home built with measurements taken from an old Bob Pierce car. The former Michigan Modified and UMP standout has since raced with his dad and traveled extensively, with an impressive number of wins (nearing 200) multiple track championships, four series championships and a long-standing track record at Eldora to his credit.
Poel brought a knack for consistency to the division while racing at six different Michigan venues. He was third in the regional points race and 17th nationally.
"I loved the competition. IMCA's lineup procedure forces you to approach each event a lot different then I have been used to in recent years." he said. "I had a lot of fun racing with a new group of drivers."
Wins, 5 – Top Fives, 25 – Starts, 30
His Crew: Wife Kari Poel, sons Leland and Blaine Poel, father Steve Poel, Scott Presley, Bo Ream, Jeff Osborn, Josh Kriesel and Dan Williams
His Sponsors: Lakeshore Custom Suspension and Hem-Pro, both of Nunica; R. Presley Innovation of Grand Haven; Trench Tech and A & A Manufacturing, both of Spring Lake; FK Rod Ends of Southington, Conn.; JMR Chassis of Ramsey, Minn.; KBC Graphix of Sumner, Ill.; and Buddah Bert of Minonk, Ill.