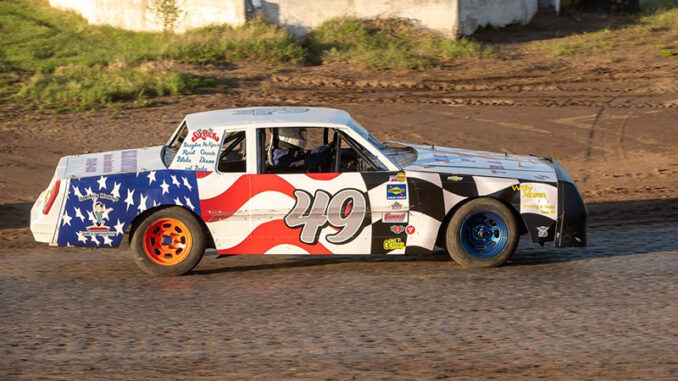 PARK RAPIDS, Minn. (Nov. 22, 2022) – If the remake of the movie Six Pack was filmed in Minnesota, Randy Randall would be the obvious choice for the lead role previously played by Kenny Rogers.
His six children would play the titular race car savvy kids in the cast.
From Park Rapids, Minn., Randall brought a Six Pack theme to the track, making most of his 37 IMCA Sunoco Hobby Stock starts at home state venues Buffalo River Speedway, North Central Speedway and Red River Valley Speedway. He shared time behind the wheel, catching up on bonding with oldest son Brayden before he went into the United States Marine Corps in August.
"I had always liked the movie and my kids like working on the car as much as I do," said Randall, also father to Reid, McKenzie, Gracie, Blake and Dixon and rookie of the year in the Big Daddy Race Cars Northern Region. "They will probably all be involved in racing at some points in their lives."
The 49-year-old Randall bought a car from friend Chad Visser for his first-ever on track season and got tips throughout the season from Tim Church, IMCA's oldest rookie of the year at the age of 52 in 2016.
"I like the fact that this is a starter class and I like the body style," said Randall, whose season highs and lows ranged from four top five finishes to barrel rolling 3-1/2 times at Jackson Motorplex. "Chris Seidel has been my parts, second chassis help and motor tuner. Without his help and support my season would have ended after the crash."
"I've gotten to go to race at a lot of different tracks. The competition was good wherever I went and people would help me out with parts, advice, whatever I needed," he added.
Girlfriend Rebecca Carlson helped make the introductions to the racing community that got Randall out of the stands and on the track.
"We are rebuilding the car I ran this season for my son Reid to race next year," he said. "I'll be the owner, crew chief and primary sponsor."
Wins, 0 – Top Fives, 4 – Starts, 37
His Crew: Children Brayden, Reid, McKenzie, Gracie, Blake and Dixon, and girlfriend Rebecca Carlson.
His Sponsors: Kelsey Price Transport, Willy Jensen Trucking and Killer Adventure Outdoor Service, all of Park Rapids; Signature Title and Jack's House Family Entertainment and Bowling, both of Brainerd; and Wadena Lanes of Wadena.