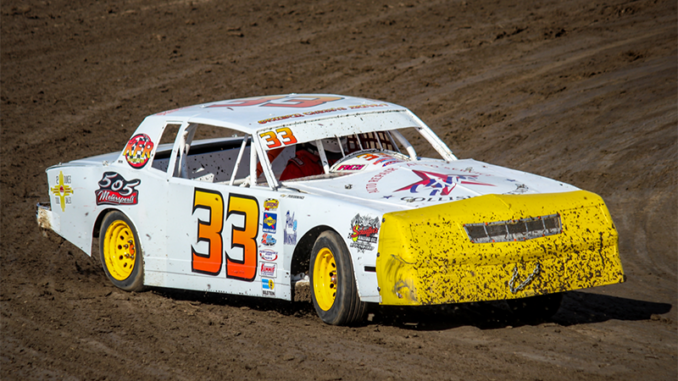 FARMINGTON, N.M. (Nov. 22, 2022) – "Unbelievable" was the word Jason Duggins had used to describe the 2021 IMCA Sunoco Hobby Stock season.
His 2022 season was even better.
Duggins raced to a division record fourth straight regional title, winning 23 features at six different Big Daddy Race Cars Southern tracks.
"At the end of last season, I told myself I wasn't going to go for the fourth one. I wanted to venture out more and race at different tracks," said Duggins, from Farmington, N.M. "Then we got to racing our weekly tracks and the car counts just exploded in Utah."
"We were getting 12-16 or more cars a lot of nights. It was just a lot of fun and I raced as much as I could," he continued. "Every weekend it seemed like there were more people building cars or buying cars or asking about how they could get a Hobby Stock."
He had shared the division record of three consecutive regional championships with Shannon Anderson, who ruled the Big Daddy North from 2008-2010 and again from 2016-2018.
"This record means a lot to me and it means a lot to my pit man Paul Dorsett. He's been with me a long time and always thought getting the fourth one would be cool," Duggins said. "Just to be able to do something no one else in the division has done is cool."
He was ninth in the national standings despite not winning a track championship and earning bonus points.
After opening the season at Arizona's Cocopah Speedway, Duggins made another 40 starts in New Mexico, Colorado and Utah, putting together two streaks of six wins in a row and one of five straight checkers.
"We seemed to get on little rolls. We would find something with the car or with my driving and then click off wins," he explained. "It was never easy. Everybody I race with gets faster and faster. This year we had a lot of different winners and that was awesome. There were a lot of green to checkered races."
Thirteen of Duggins' wins came in Utah, five of them at Desert Thunder Raceway, a short 5-1/2 hour trip from home and one of his favorite speed plants.
"That track has improved by leaps and bounds since Shane Weybright became the promoter. He does a lot of things right," Duggins said. "We had a lot of fun at all the tracks in Utah and I had a very enjoyable year seeing everyone get faster."
"Up there," he adds, "we all stick around after the races, have a campfire and a couple beers, take turns grilling and enjoy our best life."
Duggins' last two regional titles have come in the same Grumpy Chassis ride. He's updating the car that son Kyler drove to national rookie of the year honors in 2020 and may have that done in time to debut next spring.
He'll start the new season with 74 career wins.
"I race within my means and my budget and I have a lot of fun," Duggins said. "I haven't set any goals for next season but we definitely need to go back east and find out where our program is."
Wins, 23 – Top Fives, 37 – Starts, 47
HIS CREW: Paul Dorsett, sons Kyler and Trevor, girlfriend Jessica Walker, Allen Bradley, Andy Pearce, Mark Merlen and Bub Hughes.
HIS SPONSORS: Dorsett Racing and Grumpy Chassis, both of La Plata; Ryan White and Star Collision, Derek Neil and Schaeffer's Oil and Lubricants, Power by Gosh, 2 Dukes MAC Tools and 505 Motorsports, all of Farmington; WCC Customs of Bloomfield; Ruff Construction of Grand Junction, Colo.; and KFR Graphics and Wraps of Cortez, Colo.