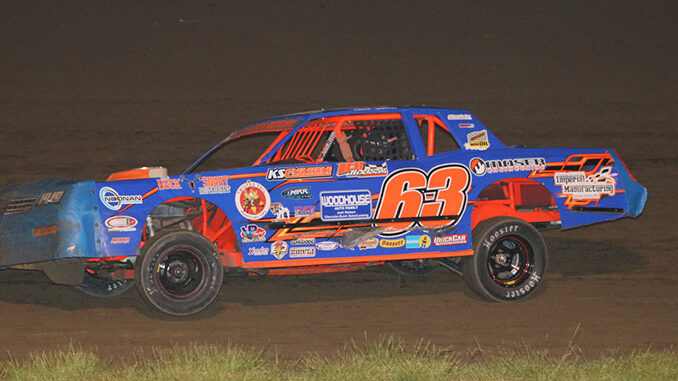 HARLAN, Iowa (Nov. 21, 2022) – The most unique of Mike Nichols' 25-plus racing seasons had a familiar conclusion.
Nichols earned the 11th national and EQ Cylinder Heads Regional championships of his IMCA Sunoco Stock Car career in 2022.
Those achievements, as well as Shelby County Speedway and US 36 Raceway track and Missouri State titles and 600th feature win in The Class Too Tough To Tame, all came despite a June 26 riding lawn mower accident that left Nichols with severe nerve damage in his left shoulder.
"It was dumb luck that I was still able to compete," said Nichols, who ended up underneath the 1,300 pound mower following a hydraulics failure and a wild ride over a nine foot embankment. "My shoulder was essentially paralyzed and there was a learning curve for me from that point."
"I know there are drivers out there who race with one hand. I am not one of those racers. If it had been my right arm, I wouldn't have been able to shift," he continued. "I had to pick up on things pretty quickly. It didn't feel right but we were able to go on a tear right after and won 11 of our next 17 and 14 of our last 21 starts."
Nichols finished the season with 22 feature wins and a new nickname, The One-Armed Bandit, the first since his age 16 season when he was known as Schoolboy.
IMCA's modern era leader with 11 national titles, 605 career wins and 46 track championships, he raced to that latest milestone victory in front of an enthusiastic crowd on Aug. 20 at his hometown track in Harlan, Iowa.
"It was a highlight of the season and for it to happen at my hometown track was amazing," Nichols said. "There was a fun group of people there and the stands were packed. It was a pretty awesome night."
The final weekend of the point season in September was at the end of the three-month window Nichols had to have surgery done or risk losing full use of his shoulder. Muscle and tendons were pulled over seven anchors screwed into bone and he wore an immobilizing sling for six weeks.
The surgery was performed at the hospital in Council Bluffs where his wife Anita is a nurse.
"Everything we faced this season presented challenges in its own unique way. This taught me that if you want to race badly enough, you'll find a way to do it," Nichols said. "Our plans for 2023 depend on my recovery. There is an expiration date to everyone's racing career and mine might be sooner than later."
Nichols has been winning IMCA Sunoco Stock Car features and national championships since 2002. He's averaged better that 28 wins a season over that span.
"We got to race with a lot of good drivers again this year. That's a lot of what made the season fun," he said. "The competition is stout when you're racing with guys like Cameron Wilkinson, Jordan Grabouski and Kyle Vanover."
Wins, 22 – Top Fives, 39 – Starts, 46
HIS CREW: Wife Anita, crew chief Justin Gessert, Paul Zimmerman, Mike Diercks, Wendall Cross, Casey Farrens, Phil Moyer, Chris Heater, Chad Heater, Blake West, Marty West, Josh Nielsen, Brian Dotzler, Braxton Gaul, Chris Gaul and Shane Ransom.
HIS SPONSORS: A&M Polishing, Behrens Trucking, Goozman's Westside, Mi Casa Family Restaurant, Petersen Motors, The Buck Snort, The Rust Family/Rusty Iron and The Lounge, all of Harlan; Gaul Farms of Earling; Shane & Shawn Ransom Independent Scentsy Consultants of Walnut; Advanced Communication Services of Manilla; Dragonfly Acres of Portsmouth; What's Your Sign? Graphics of Avoca; Dynamic Drivelines of Des Moines; The Twisted Tail of Beebeetown; Josh Nielsen & Woodhouse Auto Family of Missouri Valley; B & B Racing Chassis of Belle Plaine, Minn.; Kevko Oil Pans of Fairmont, Minn.; KS Engineering of Albert Lea, Minn.; Imperial Manufacturing Racing of Beaver Crossing, Neb.; SSS Motorsports of Springfield, Neb.; FX Suspension of Phillips, Neb.; Noonan Industries of Dorchester, Neb.; Bassett Racing Wheel of Burlington, Wis.; Champion Racing Oil of Clinton, Mo.; Multi-Fire by Money of Penokee, Kan.; Western Carriers of WaKeeney, Kan.; Comp Cams of Memphis, Tenn.; QuickCar Racing Products of Lebanon, Tenn.; Moser Engineering of Portland, Ind.; Schoenfeld Headers of Van Buren, Ark.; CP Carillo of Irvine, Calif.; Swift Springs of Chino Hills, Calif.; and Wilwood Disc Brakes of Camarillo, Calif.