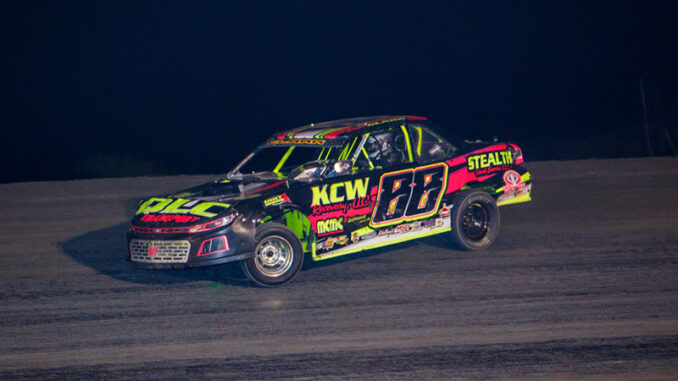 JOSHUA, Texas (Nov. 21, 2022) – Blake Clark didn't just emerge as one of the top young guns in the IMCA Sunoco Stock Car division this season.
He's also become a first-rate spokesman for The Class Too Tough To Tame.
The 19-year-old from Joshua, Texas, enjoyed a breakout 2022 campaign, winning 19 features and repeated as Boyd Raceway track champion on the way to capturing the EQ Cylinder Heads Southern Region crown.
"I love the Stock Car division," said Clark, who doubled his career win total in his first season behind the wheel of the 2019 Terminator purchased from Leslie Gill that Steffan Carey had won the Southern Region with two years ago. "I love the competition, the setup and the suspension. You can make an IMCA Stock Car work and race door-to-door anywhere on the track."
His father Thomas was the Stock Car champion at Boyd in 2001. Junior mini graduate Clark followed him into the class in 2017, running a homebuilt car and winning what had been a previous season-best 14 times last year.
Clark turned his first laps this season at Abilene Speedway's Ice Breaker before making a pair of Sniper Speed Lone Car Tour starts.
He won at Kennedale Speedway Park before topping a thriller on opening night of Southern Oklahoma's Stampede special.
"We weren't planning to race for points. We were going to travel a lot," Clark said. "Then after that night at Ardmore, we looked at the car and told ourselves 'Holy cow, we've got a rocket!'"
Clark rode that rocket to 10 wins in all at Boyd, with another five at KSP and four at Southern Oklahoma.
After venturing to Batesville Motor Speedway for the Arkansas Spring Nationals, he collected nine of those checkers in 13 starts between April 2 and May 20. Clark led the national point standings until late July, ultimately ending in sixth place.
"For a while there it seemed like were winning almost everything," said Clark, who graduated from Godley High School this spring and now works for an excavating company. "We kept on going, kept on winning and met a lot of great people along the way."
Some of those new friends were made at Boone Speedway, during the 40th annual IMCA Speedway Motors Super Nationals fueled by Casey's.
"We had a great time at Boone. You go up there and the competition is awesome," he said. "You can race side-by-side with people from all over the country and they're all fast."
Wins, 19 – Top Fives, 39 – Starts, 53
HIS CREW: Parents Thomas and Stephanie and girlfriend Kaitlyn Baker.
HIS SPONSORS: HD Chassis of Joshua; Stealth Oilwell Services of Odessa; KCW Recovery of Fort Worth; Dirt Defender of Waxahachie; Trophy Material LLC of Burleson; IM Racing Fuels LLC of Grandview; and WCC Customs of Bloomfield, N.M.