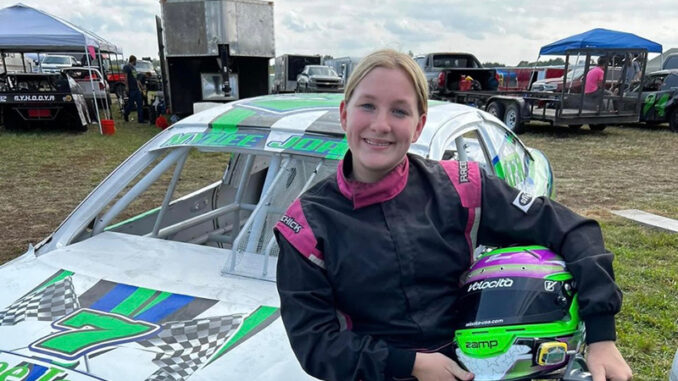 FARMINGTON, N.M. (Nov. 20, 2022) – A young driver who made it a point to race with and learn from veteran competition proved to be good as gold is achieving her goal of winning the Mach-1 IMCA Sport Compact rookie of the year award.
Miley JoAnn Goldwich-Rhames became the first female driver, and the first from New Mexico to earn national rookie honors in the 4-cylinder division. She totaled 13 feature wins, making 50 starts at 11 different tracks in nine states.
"I never thought we'd win that many. We really had to stay focused. We ran with a lot of good drivers everywhere we raced and I got a lot of help," said Goldwich-Rhames, 14 years old and now a freshman at Farmington High School. "We learned a lot by watching videos and other drivers at the track."
"Every track we went to, drivers gave me pointers and told me I was doing a good job," she added. "There were drivers who loaned us parts and helped worked on the car when we needed it. The racing community was really fun to be part of wherever we went."
After racing to her first two career feature wins at Arizona 's Cocopah Speedway, Goldwich-Rhames collected checkers at Aztec Speedway and Cardinal Motor Speedway in her home state, Desert Thunder Raceway in Utah and Fairgrounds Speedway in Colorado.
"Getting that first win as was exciting. The adrenaline rush after the race was amazing," she said. "We really liked racing with (promoter) Brad Whitfield. Cocopah is one of my favorite tracks. It's really wide and there's room to pass in the corners."
The Fairgrounds Speedway track and New Mexico state champion took a racing vacation to the Midwest in early June before running at both the Prelude and IMCA Speedway Motors Super Nationals fueled by Casey's at Bone Speedway in September.
She was runner-up in Lady Eagle standings and fifth in national Sport Compact points.
"It was cool to be able to do everything we did this year," said Goldwich-Rhames. "I'm really proud of what we accomplished this season and look forward to new challenges next year."
Goldwich-Rhames will do double-duty in 2023, returning for her second Mach-1 IMCA Sport Compact season while contending for IMCA Sunoco Hobby Stock honors in an already-purchased Grumpy Chassis ride.
Brendon Yamry and Jack Bransom were both 14 when they were IMCA Sport Compact rookies of the year, in 2015 and 2020, respectively.
Wins, 13 – Top Fives, 29 – Starts, 49
Her Crew: Parents Curtis and Shelley and John Patterson.
Her Sponsors: Rock n' Roller Rink and Gasco Propane, both of Farmington; Holiday Farms of Bloomfield; KFR Graphics of Mancos, Colo.; and O'Reilly Auto Parts.