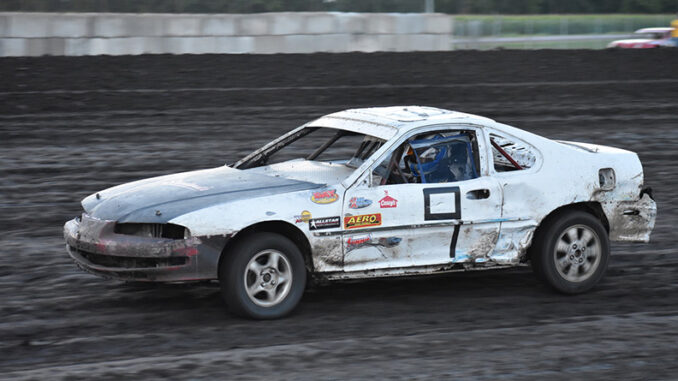 MANKATO, Minn. (Nov. 20, 2022) – Nate Coopman was the up-and-coming young gun when he won his first Mach-1 IMCA Sport Compact national championship.
Now he's the wise old veteran, the division leader in both career wins and track titles, and five-time national champion in the 4-cylinder class.
The Mankato, Minn., driver, all of 30 years old, earned his latest national title, along with Arlington Raceway and Murray County Speedway track and the Minnesota State crown, on the strength on 17 feature wins.
"We weren't sure what the season was going to be like after a DNF on opening night at Arlington," said Coopman. "We were pretty bummed about it, but we stayed at it and kept getting the wins and top five's."
"Probably about mid-season we looked at points and figured we still had a pretty good shot at the national championship."
Coopman was quick to right the ship after that early miscue, winning seven of his next eight and eight of his next 10 outings.
Racing with his father Jerry, wife Stephanie when her weekend work schedule allowed and father-in-law Neil, he'd stay consistent into September. Coopman had nine wins in all at Arlington, getting another five at Slayton, two at Clay County Fair Speedway and a single checkered at Worthington Speedway.
"We definitely wanted to win our fifth national championship this season for sure. My grandfather Gerald passed away at the end of last year. He had been to pretty much all of my races and sponsor Pat Liegel passed away right after the season, so it was nice to win this one for them," Coopman said.
The Sport Compact national champion and rookie of the year in 2011, Coopman added national crowns to his collection in 2014, 2015 and 2016. He now leads the division with 292 career wins – including a single season record 54 in 2014 – and 19 track titles.
"The competition in this class has definitely gotten better. We'll never be able to win 54 times in a season again," he said. "Racing weekly takes a lot of time and dedication and it can be stressful if you let it. We'll be back part-time next year to chase 300 career wins."
Wins, 17 – Top Fives, 34 – Starts, 44
HIS CREW: Wife Stephanie, parents Jerry and Kim, uncle Andy Coopman, father and mother-in-law Neil and Wendy Forsberg, Aranda Forsberg, Robby Severson, Rich and Katelynn Wilson, Bob Baker and Bubba Brown, and memorial crew Grandpa Coopman, Grandma Maddy, Ray Wibstad, and Pat Liegel.
HIS SPONSORS: Knish Kustomz of Kilkenny; Extreme Powder Coating of Blooming Prairie; Wilson Auto Repair and Matt's Auto Lab, both of North Mankato; Pat Liegel of Lake Crystal; Sturdevant's of Slayton; and Blaschko Building Supply of Mankato.