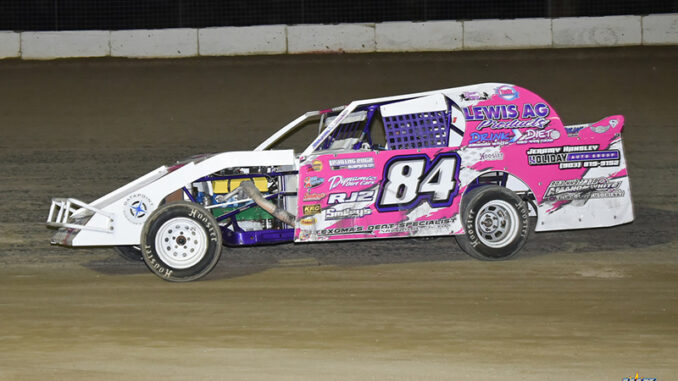 ECTOR, Texas (Nov. 18, 2022) – All his success close to home this season means Rodney White will drive about as far getting to the IMCA national banquet as he did traveling to win an IMCA national championship.
White won 15 of his 23 starts at Grayson County Speedway, just 10 miles from home in Ector, Texas, and made a single foray to Southern Oklahoma Speedway in earning the Smiley's Racing Products IMCA Southern SportMod national crown.
"Winning a national championship is something I always wanted to accomplish but didn't know if I'd ever be able to do," admitted White, who juggled work and family activities in becoming IMCA's sole first-time national champion of 2022. "It hasn't set in 100 percent yet but I'm sure it will when I'm sitting at the banquet in Lincoln. It sounds like I'm going to be the only (national champion) who doesn't already know what to do there."
White knew what to do each and every night at the track, finishing outside the top five just twice.
He started the season at Bells with three straight checkers, later racing to streaks of four, three, and then four more feature wins.
"Having all the laps there that I do doesn't hurt. It's super close to home – I was able to go back home one night to change a transmission – and just where we like to race," said White, who collected a career sixth track title at Grayson County this season. "Mark and Ramona Weiss have done a lot with this place. It's where I'll be hanging out."
Third generation driver White followed his grandfather Jack into the sport after helping crew for his father Jeff, a five-time IMCA Modified track champion at Bells and 36th all time in the division with 126 feature wins.
He started his own racing career in 2000 and had success in both Friesen Performance IMCA Modified and IMCA Sunoco Stock Car divisions before finding a new home in the Southern SportMod division.
"We built our first Southern SportMod in 2012 and we've been in this class ever since," said White. "We like the competition, we like the cost and we like being able to race close to home."
He piloted a 2020 Dynamic Chassis weekly, staying in contention for the Grayson County title in a car borrowed by Trevor Raney and ultimately for the national crown in a Lonnie Redmon ride.
"I won four of my starts in that car, a TRC by Whitey, that I'd raced before," he said. "Without it, I'd have been sitting out."
Third nationally in 2018, White's raced to a previous single-season best 12 feature wins in just 18 starts. He's now tied for seventh on the all-time wins list for the division with 65 checkers.
White also got to watch son Hudsyn on track in a two-seat factory stock while wife Amanda tossed dirt in a powder puff race.
"This is the first year I got them into cars," he said. "Amanda ran up front for a while. It was a lot of fun watching her race."
Wins, 15 – Top Fives, 21 – Starts, 23
His Crew: Wife Amanda and sons Hudsyn and Harlyn, father Jeff, Kyle Bryson, Coleton Trejo, Juan Grijalva and Riley Dodge.
His Sponsors: Bodies by Superman, Leading Edge Suspension, Whitey Race Engines and RJ2 Designs, all of Ector; Amanda White and The Colour Society of Denison; Datapoint Surveying and Mapping of San Antonio; Wendel and Randi Williams, Texoma's Dent Specialist and The Picture Girls, both of Sherman; Dynamic Dirt Cars of Bailey; Jeramy Hansley at the Holiday Auto Group of Whitesboro; Smiley's Racing Products of Mesquite and Sherman; Powder AddictionZ and Ink AddictionZ, both of Collinsville; Lewis Ag Products of Ravenna; Texoma Linen of Pottsboro; Duncan Truck Sales of Lamasco; and Speedway Motors of Lincoln, Neb.