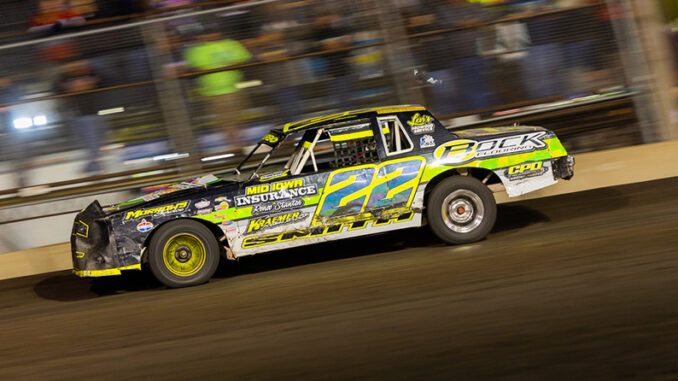 LAKE CITY, Iowa (Nov. 17, 2022) –  Born and raised in a racing family where winning IMCA championships is the norm, Mike Smith can now boast of having won a unique one. 
The IMCA Sunoco Hobby Stock driver from Lake City, Iowa is the 2022 Junior National Champion after topping standings for the nearly 400 drivers ages 13-18 who competed in IMCA this season.
"It's a great accomplishment and another one I'm glad I won," said Smith, who'd become the youngest driver in division history to win the main event at the IMCA Speedway Motors Super Nationals fueled by Casey's last year. "It's nice to be the first one in the family to win something and I'm always glad when I can click off another championship in a Hobby Stock."
The 20-time feature winner raced to track titles at both Boone Speedway and Kossuth County Speedway and a career-first Iowa State crown as well.
"We didn't shy away from the competition. We ran with a lot of good drivers and they made me work every night," said Smith, third in both national and Big Daddy Race Cars Northern Region standings. "We weren't running for anything at the start of the year, just for fun, and didn't really start trying for Junior National Champion until about three-fourths the way through the season."
"It seemed like there were so many nights where little things went wrong, or we made little mistakes that took us out of the national race but we were still able to win Junior National Champion," he continued. "Hats off to (national champion) Dillon Richards and (national runner-up) Cory Probst. They're great racers."
Great racers run in the family as Smith, his father David and uncles Doug, Devin, Dustin and Donavon owned a combined eight IMCA national and nine Super Nationals championships.
A spring graduate of South Central Calhoun High School now working on the family farm, Smith credited a strong support system at home in addition to quality competition on the track in making him a better driver.
Checkered flag runs at the season-opening Frostbuster and the season-ending Prelude to the Super Nationals bookended his six weekly point season wins at Boone. He was also an eight-time winner at Algona.
"This was the first time I had raced the full year at either track. The whole family races at Boone," he said, "and Donavon had raced at Kossuth County last season. I decided it would be fun to go there full-time with him this year."
"We had a good season. It could have been a little better but there's always next year for us to try again."
Wins, 20 – Top Fives, 35 – Starts, 48
His Crew: Father David and uncles Doug, Devin, Dustin, Donavon and Daniel.
His Sponsors: Morrow's Service, Renee Stauter and Mid-Iowa Insurance and Wilkins NAPA, all of Lake City; Shawn Stanton Motorsports of Carlisle; Kraemer Power House of Sac City; Levi's Mowing Service and McChesney Auto, both of Rockwell City; Bock Flooring and Bock Motorsports, both of Carroll; CPD Racing Shocks of Fort Dodge; Performance Bodies of Cedar Falls; and Fast Shafts of Des Moines.