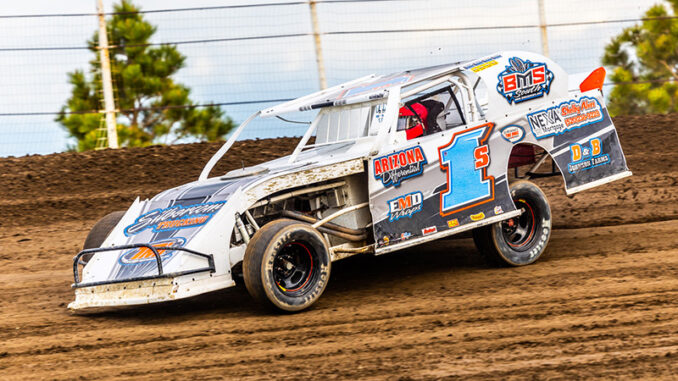 SIOUX FALLS, S.D. (Nov. 17, 2022) – The Lady Eagle award wasn't even a blip on Shelby Alves' radar at the beginning of 2022. 
Now the trophy she'll get as the top female driver in IMCA this season will be displayed prominently at her new home in Sioux Falls, S.D.
"The Lady Eagle wasn't a goal at the start of the season. We were concentrating on winning the Arizona State championship. That was really our priority at the beginning of the year," Alves said following her fourth Friesen Performance IMCA Northern SportMod season. "Winning the Lady Eagle means a lot to me, especially when you consider it means competing with drivers in all the divisions. It's hard enough just competing in the Northern SportMods."
Alves became the first Northern SportMod driver to win the Lady Eagle, and the first in any division from a Western Region state to do so since its inception in 2007.
More than 300 drivers contended for the award this year.
"It's so hard to win a title like this racing in the West," said Alves, who moved earlier this month from Casa Grande to the Midwest with husband and fellow driver Chase and young daughter Rowan. "Especially when you look at the number of nights you can race in the summer and the distance between a lot of the tracks."
She won a single-season career-best seven features this season, along with the track title at Central Arizona Raceway and the Arizona State crown.
"We had won there once before (in 2020) and was really comfortable at Central Arizona, so we focused on winning the track championship there," Alves said. "It's big, it's banked, it's fast and it was like 15 minutes from home."
The Alves got in a couple racing trips to the Midwest before returning for the IMCA Speedway Motors Super Nationals fueled by Casey's.
"We left our cars in South Dakota after Super Nationals, towed an empty trailer back to Arizona, then hauled everything to South Dakota after closing on our house," Shelby said.
"There are a lot of things we like about South Dakota and racing was just one factor in moving," she explained. "Our weekly tracks will be Park Jefferson Speedway and The New Raceway Park. We're going to do a bucket list of races, like Salute to Veterans and Night of 10,000 Stars, and let points fall into place."
She'll be back in a Northern SportMod to chase those points in 2023.
"I love that you can travel to so many tracks and so many races in this division," Alves said. "I love the competition and it's affordable."
Wins, 7 – Top Fives, 20 – Starts, 37
Her Crew: Husband Chase, father Jack Frye, Sheyne Bradley, Jacob Green and Randy Silber.
Her Sponsors: Randy Silber and Silbercom Trucking of Laveen, Ariz.; BMS South Race Cars of Apache Junction, Ariz.; Arizona Differential of Phoenix, Ariz.; Lighthouse Painting of Yuma, Ariz.; D & B Johnson Farms of Homestead, Mont.; and Precision Performance of Oxford, Iowa.